The tough-talking but popular Mayor of Davao City, Mayor Rodrigo Duterte finally decided to run for President as he filed his Certificate of Candidacy (COC) for President of the Philippines but a few hours after his COC was filed at the COMELEC office in Manila, the first objection to Duterte's run came. COMELEC confirmed that a certain Ruben Castor filed a disqualification case against Mayor Duterte's intention to run for President.
See Also: Let your Voice Be Heard. Join our Poll, Who will be the Next President?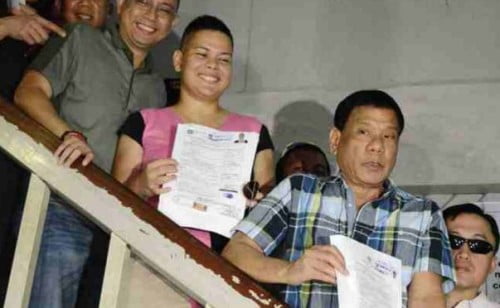 The complainant, Ruben Castor asked COMELEC "not to give due course," to the Davao Mayor's COC as he was running as a substitute for a candidate who had withdrawn from the race and whose COC had an erroneous entry.
The COMELEC also noted that Mayor Duterte's filing of COC did not mean that he as already a candidate for President. According to Election Commissioner Christian Robert Lim, Duterte's COC needs to go through deliberation by the full commission.
"Receiving his COC was a ministerial function of the Comelec, but this has to be elevated by the law department to the [full commission], which will decide what to do," Lim told reporters.
The COC of Mayor Duterte for President was filed by Atty. Medialdea in the Comelec's law department at noon, nearly a month after the original presidential candidate of the Partido Demokratikong Pilipino-Laban ng Bayan (PDP-Laban), Martin Diño, withdrew from the race after being ordered by the Comelec to explain why he should not be declared a nuisance candidate.