The Philippines is considered as one of the countries in the world with a higher "Passport Power" compared to other countries worldwide based upon the latest survey conducted by financial advisory firm Arton Capital. The Philippines is ranked 57th in terms of the number of countries its passport holders can visit without visa.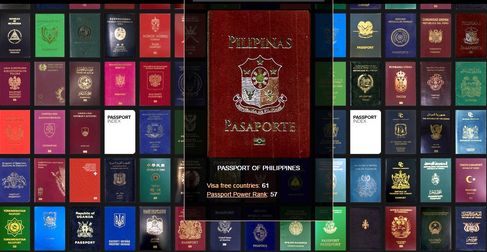 According to a report posted by Anna Swanson for Washington Post, she noted that the passport ranking was posted by Arton Capital based on various criterias. Based on the passport ranking, Philippine passport holders have access to 61 countries without an advanced visa.
Some of the countries that allowed Philippine passport holders to visit their country without obtaining visas first are Myanmar, Malaysia, Singapore, Thailand, Vietnam, Cambodia, and Hong Kong.
The country also holds the same rank with Nigeria, Bahrain, Saudi Arabia, Azerbaijan, Tunisia, Tanzania, Mali, Namibia and Zambia. The Philipines has access to 61 countries and territories worldwide while our government allowed a total of 157 countries to enter the Philippines visa-free.
The United States of America and United Kingdom topped teh list of "most powerful passports" with access to 147 countries without an advanced visa. Ranking in power passport rank 2 are France, South Korea, and Germany with access to 1145 countries without advanced visa. Italy and Sweden were ranked third with access to 144 countries.
Meanwhile, ranking at the bottom countries are Solomon Islands, Myanmar, South Sudan, Sao Tome and Principe and Palestinian Territories with only 28 countries allowed its citizens entry without an advanced visa.