After surrendering himself at the Sandiganbayan and staying three days inside the Philippine National Police Custodial Center, Senator Ramon Bong Revilla Jr. had three major complaints regarding his detention cell.
Large rats, roaches and extreme heat. He named these as his top three problem in his stay inside the PNP Custodial Center particularly on his 32-square meter room.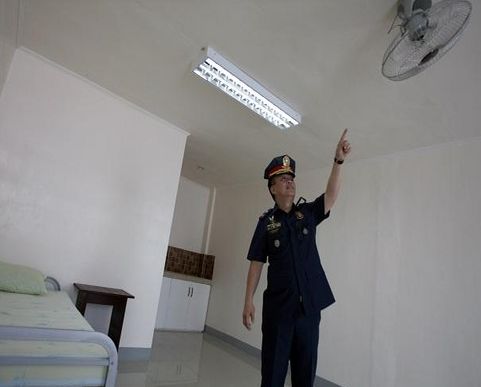 Sen. Revilla's Detention Center (Photo Credit: Inquirer)
Senator Bong Revilla was charged of graft and plunder in the P10 billion PDAF scam case. He surrendered to the Sandiganbayan last Fiday, June 20, 2014 after the arrest warrant was issued.
The family of Senator Revilla appealed to the PNP to allow them in visiting the senator every day. But as of the moment, Revilla's family are only allowed to visit him, from 9 in the morning to 3 in the afternoon every Thursdays and Sundays.
Last Sunday, Revilla's family together with his several friends and his father, Ramon Revilla Sr. paid visit to him at the PNP Custodial Center. They brought him food and bibles.
The Philippine National Police had promised the Senator that the rats problems inside his detention cell will be taken care of. According to one of the Senators visitor, Atty. Salvador Panilo, a lawyer friend of the Revilla family, he noted that he saw rats "as big as cats."
The lawyer of Senator Revilla, his doctor and spiritual counselor had also been given the right to see the detained senator.
All the preparations for Senator Revilla's prosecution on the 26th of June at the Sandiganbayan was said to be taken care of by the police authorities according to Chief Reuben Theodore Sindac of the PNP Public Information Office.
comment(s) for this post "Sen. Bong Revilla's Detention Center Infested with Rats". Tell us what you think abut this post by leaving your comments below.