The Philippine government is spending at least P2 billion to put up an alternative runway parallel to the existing runway at the Ninoy Aquino International Airport (NAIA). The confirmation was made by Secretary Joseph Emilio Abaya during an interview on the sidelines of the World Economic Forum (WEF) East Asia in Manila.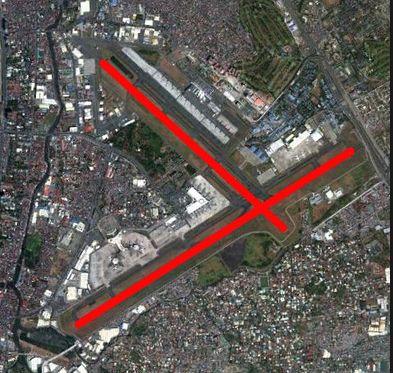 NAIA's Existing Runway (Photo: Skyscraper's City)
According to the DOTC Secretary, the first phase of the project would involve the construction of a 2.1-kilometer runway parallel or south of the existing runway 06/24. The new runway could allow Airbus A320, the world's largest commercial airlines to land at NAIA.
The first phase of the government project according to Sec. Abaya could cost P2 billion but the DOTC needs to verify the exact amount first. The government is still studying the proposed runway as this could displace around 600 houses in the Merville Subdivision beside the 40-hectare NAIA complex.
The DOTC also noted that they needs the help of he Department of Public Works and Highways (DPWH) as well as the National Housing Authority (NHA) because the project would involve expropriation of land and relocation of families to be displaced.
Aside from the housing problem of DOTC, they also noted that one of their other concern is the possibility that the International Civil Aviation Organization (ICAO) could withdraw the certification of the existing runway once a new runway is constructed beside it.
The Ninoy Aquino International Airport (NAIA) was built during the year 1981 with tow intersecting runways – primary runway 06/24 and secondary runway 13/31.
Meanwhile aside from the proposed improvement of NAIA Runway, the Philippines diversified conglomerates San Miguel Corporation is also planning to build one of Asia's most advance airport on their property along the Manila-Cavite Coastal Road. The international airport project will have an estimated cost of P10-billion.
comment(s) for this post "Philippines Allots P2 Billion for NAIA's Alternative Runway". Tell us what you think abut this post by leaving your comments below.