Philippine lawmaker Cynthia Villar is now the richest Senator in the Philippines while the poorest Senator title was given to Sen. Antonio Trillanes IV based upon the latest Statement of Assets and Liabilities (SALN) of the members of the Legislative Branch of the government's Upper Chamber.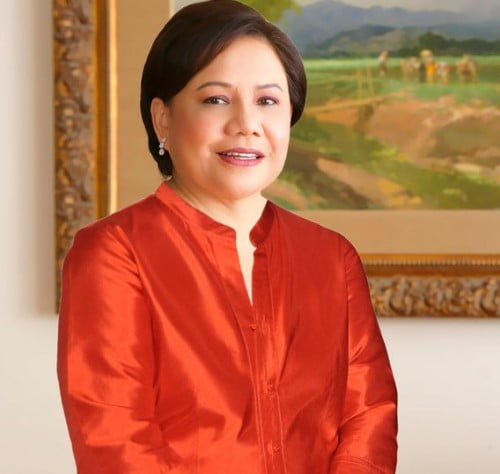 Senator Cynthia Villar, the wife of former richest senator, Manny Villar continued the tradition as the richest in the Senate, the former Representative and now Senator Cynthia Villar has a total assets of P1.62 billion in 2013.
The joint SALN of Manny and Cynthia Villar showed that they have P4.88 million worth of real properties with the bulk of their assets amounting to P1.62 billion in shares of stock. The latest net worth of Villar which was submitted on April 30, 2014, with an increase of P1.453 million reported in their 2012 SALN.
The poorest among the Senators who submitted their SALN is Senator Antonio Trillanes IV with a net worth of about P4.912 million.  Most of the Senators maintained their net worth in the past year amid the pork barrel controversy.
The second richest Senator is the husband of Batangas Gov. Vilma Santos-Recto, Sen. Ralph Recto with a total assets amounting to P496,856,444.29 on their SALN report. Senator Recto also ranked second during the year 2012.
Sen. Ferdinand Marcos Jr., and wife Louise Araneta-Marcos has a reported total net worth of P197.47 million. Sen. Marcos' liabilities showed P20.848 million in property loans with BPI Savings Bank.
Here's the Other SALN Report of Senators:
Sen. Jinggoy Estrada – P195 million Assets/ P21 million Liabilities
Sen. Ramon Revilla Jr. – P249 million Assets/ P166.7 million Liabilities
Sen. Grace Poe-Llamanzares – P148.9 million
Sen. Juan Ponce Enrile – P119.377 million
Sen. Teofisto Guingona III (P114.9 million)
Juan Edgardo Angara (P97.825 million)
Miriam Defensor-Santiago (P76.743 million)
comment(s) for this post "SALN: Richest Senator is Cynthia Villar While the Poorest is Sen. Antonio Trillanes IV". Tell us what you think abut this post by leaving your comments below.