The 86th Academy Awards or more popularly known as the Oscars 2014 presented by the Academy of Motion Pictures Arts and Sciences (AMPAS) will honor the actors, actresses, technical achievements and films of the year 2013 in an extravagant ceremony currently held at the Dolby Theatre in Hollywood, Los Angeles, California.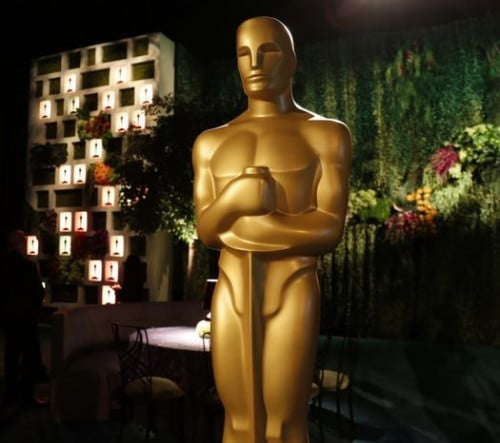 Oscars 2014 (Photo Credit: Reuters)
The results of the Oscars 2014 winners tonight (Monday morning Philippines) will be revealed a few minutes from now. The Oscars 2014 is hosted by world-renowned host Ellen DeGeneres, her second time to host the prestigious event.
The show is currently live on ABC, the Oscars 2014 will also feature performances of Pink and indie rocker Karen O. Bette Midler along with Broadway singer Idina Menzel, U2 and Pharrel Williams who will entertain the Oscars crowd. The winners will be revealed among the official list of nominees.
The 86th Academy Awards begins its broadcast at around 8:30 PM Eastern Time (USA).
Here's the Complete List of Winners (Oscars 2014 Results):
Best Picture: "12 Years a Slave"
Best Actor in a Leading Role: Matthew McConaughey in "Dallas Buyers Club"
Best Actor in a Supporting Role: "Dallas Buyers Club" Jared Leto
Best Actress in a Leading Role: Cate Blanchett in "Blue Jasmine"
Best Actress in a Supporting Role: Lupita Nyong'o in "12 Years a Slave"
Animated Feature Film: "Frozen" Chris Buck, Jennifer Lee and Peter Del Vecho
Cinematography: "Gravity" Emmanuel Lubezki
Costume Design: "The Great Gatsby" Catherine Marti
Best Director: "Gravity" Alfonso Cuarón
Documentary Feature: "20 Feet from Stardom"
Documentary Short Subject: "The Lady in Number 6: Music Saved My Life" Malcolm Clarke and Nicholas Reed
Film Editing: "Gravity" Alfonso Cuarón and Mark Sanger
Foreign Language Film: "The Great Beauty" Italy
Makeup and Hairstyling: "Dallas Buyers Club" Adruitha Lee and Robin Mathews
Music (Original Score): "Let It Go" Kristen Anderson-Lopez and Robert Lopez
Music (Original Song): "Gravity" Steven Price
Production Design: "The Great Gatsby" Production Design: Catherine Martin; Set Decoration: Beverley Dunn
Short Film (Animated): "Mr. Hublot" Laurent Witz and Alexandre Espigares
Short Film (Live Action): "Helium" Anders Walter and Kim Magnusson
Sound Editing: "Gravity" Glenn Freemantle
Sound Mixing: "Gravity" Skip Lievsay, Niv Adiri, Christopher Benstead and Chris Munro
Visual Effects: "Gravity" Tim Webber, Chris Lawrence, Dave Shirk and Neil Corbould
Writing (Adapted Screenplay): "12 Years a Slave" Screenplay by John Ridley
Writing (Original Screenplay): "Her" Written by Spike Jonze