June Macasaet, the winner of the Manhunt Philippines was dethroned as the 2012 winner of Manhunt Philippines according to the announcement made by Prime Events Productions, the producer and franchise holder of Manhunt Philippines and Mister International Philippines.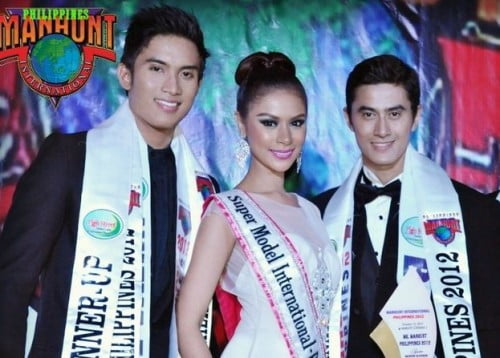 Manhunt 2012 Runner-up Cris Navarro, Angelee delos Reyes & June Macasaet
The 29-year-old successfully represented the Philippines in Bangkok, Thailand and eventually won the competition last November 29, 2012. His title as Manhunt International title-holder is currently at stake and according to some reporters it is not sure yet if the decision made by the Philippines will affect his standing in the international pageant.
June's dethronement from the local pageant as the winner of the Manhunt Philippines 2012 came after he refused to sign the contract with Prime Events Philippines.
Here's the official statement made by Prime Events Regarding June Macasaet's dethronement:
"Because June Macasaet, doesn't want to sign the contract with Prime Events Philippines, we don't want to give his remaining prizes. June is not happy with our decision. As a result, we don't gain any cooperation and support from him," the official statement said. "Since June Macasaet is Manhunt International winner, we are going to dethrone him," it went further.
According to Manhunt Philippines organizers, the official winner of the 2012 edition is last year's First Runner-up Cris Edwin Navarro.