Senator Ramon Bong Revilla Jr. became emotional on Monday after knowing that he was accused of plunder from the Office of the Ombudsman after his name was mentioned that he was involved in the 10-million PDAF or the pork barrel issue.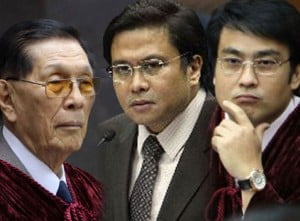 Revilla pleads to the people not to accuse him quickly but instead he wants time to explain themselves up to the last details of their issue.
On the other hand, Senator Jinggoy Estrada, is unhappy about the results when he had shown his faced in front of the media in a press conference. The senator is ready to face all the accusations to him in connectios to the pork barrel issue.
He claims that he had nothing to deal with anything that concerns about his PDAF (Priority Development (–foul word(s) removed–)istance Fund).
Another senator who was also involved in the issue was Senator Juan Ponce Enrile. Senator Vicente "Tito" Sotto III claims that he was sent to the hospital last Saturday because of high blood pressure. Sotto could not confirm if the senator is already okay after his shocking condition.
Meanwhile, the media tried to give contact to the Senator's media relations officer, Lizette Nepomuceno, but there was no response.
Despite of the Senator's conditions, his plunder case will still be applied to him including also his other fellow senators who are also involved on the issue.
Estrada also reported Enrile's condition and he added that his blood pressure rose maybe because of his kidney stones or maybe he had a problem in his gallbladder.
comment(s) for this post "Enrile Hospitalized Among Three Senators After Plunder Case". Tell us what you think abut this post by leaving your comments below.