A crucial shot made by Tony with 6 seconds remaining in the fourth quarter secured the Spurs victory over the Miami Heat in the Game 1 of the NBA Finals held at the American Airlines Arena giving them a victory with the final score at 92-88.
The Miami Heat were leading from the start of game and having always leading after each quarter with two points but in the fourth, the Spurs bounced back and took the lead courtesy of the heroic turn-around moved by French international Tony Parker.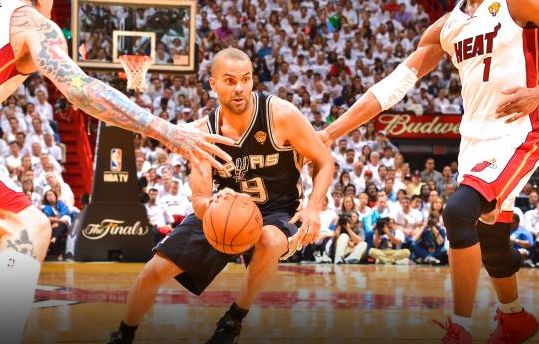 The game ended with Spurs gaining their seventh straight wins in the NBA Playoffs this time against depending champion Miami Heat. The Spurs outscored the Heat in the fourth quarter pouring out a total of 23 points against 16 points of the Heat.
Tony Parker led the Spurs with 21 points while Tim Duncan contributed with 20 points and 14 rebounds. The Heat got a triple double performance from LeBron James who scored with 18 points, 18 rebounds and 10 (–foul word(s) removed–)ists but was not enough to lift the Heat against the Spurs.
Dwayne Wade scored with 17 points while Chris Bosh contributed with 13 points and 5 rebounds.
Heat vs. Spurs Game 1 Highlights: