Alan Peter Cayetano, a re-electionist senator and minority leader of the Senate of the Philippines who is seeking for another term in the legislative department of the government. Before he became a Senatore, he represented the district of Taguig-Pateros for 9 years.
The 42-year-old Cayetano is the son of former Senator Renato Cayetano, one of the most prominent senators in the Philippines and wife Sandra Schramm-Cayetano. His siblings are Senator Pia Cayetano-Sebastian (older sister), Councilor Rene Carl Cayetano (elder brother), and TV/movie director, Barangay Chairman Lino Edgardo Cayetano (younger brother).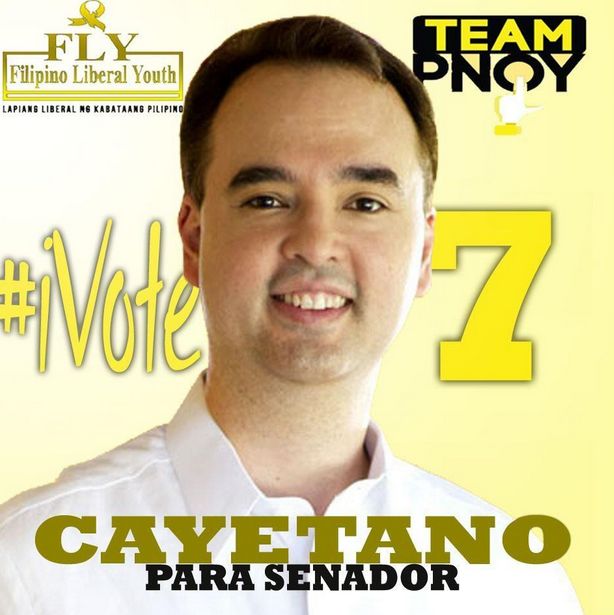 Senator Cayetano graduated Law at the Ateneo de Manila University with a Second Honourable Mention and Silver Medalist. He was admitted to the Philippine Bar in 1998.
Alan Peter Cayetano Short Profile:
Alan Peter Schramm Cayetano
Alan / Compañero Cayetano
Birthdate: October 28, 1970
lawyer / senator
Mandaluyong City
Bagumbayan, Taguig City
Married to Maria Laarni Lopez Cayetano
Nacionalista Party
Professional / Political Experience:
Lawyer
Councilor of Taguig (1992-1995)
Vice Mayor, Taguig (1995-1998)
Representative from Taguig-Pateros's District (1998-2007)
Senator of the Philippines (2007-2013)
Education:
De La Salle Santiago Zobel School (elementary and high school)
UP (BA Political Science, 1993)
Ateneo de Manila University (Juris Doctor, Second Honourable Mention, 1997)
Achievements and Distinctions:
Son of the late former Sen. Renato "Companero" Cayetano
Current minority leader of the Senate of the Philippines
Top Outstanding Young Men (TOYM 2010) awardee ( for exemplary work in government and public service)
Know more about Alan Peter Cayetano: (Video):