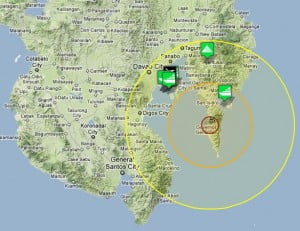 United States Geological Survey's (USGS) had confirmed earlier that a Magnitude 5.0 Earthquake hit Davao in Southern Philippines at around 6:00 P.M. (Philippine Time).
The 5.0 Magnitude quake that hit Davao had a depth of 93.8 km (58.3 miles). The earthquake occurred at 45.36 mi Southeast of Davao.
Right after the USGS confirmed that an earthquake hit Davao the term Davao immediately landed at the top trending topics at Twitter Philippines.
The exact location of the epicenter is located at 0.86 km (0.53 miles) of Tibanbang, Province of Davao Oriental.
As of these writing there is no reported casualties and properties that have been damaged. Authorities were still inspecting the areas.
For more information regarding the earthquake that hit Davao City just visit the official USGS Site.
For updates and related topics just bookmark this page.