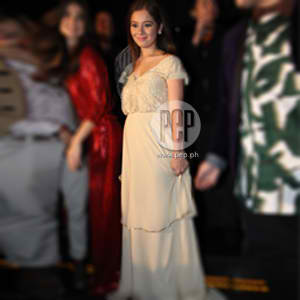 Nine days have p(–foul word(s) removed–)ed since the issue of Andi Eigenmann's pregnancy was officially confirmed by the veteran star Jaclyn Jose who happens to be Andi's mother. Facing various controversies and possible consequences, the young actress is now taking her journey towards being a mom.
Acceptance finally dominated in the hearts of Andi and her family though it was hard at first. Now, Andi takes a public step as she finally reveals her baby bump not minding the cameras.
This got to be her first ever public appearance after the confirmation of her pregnancy was brought to p(–foul word(s) removed–).
On Saturday, Andi Eigenmann was present on a certain celebrity event with a seemingly proud poise dressed in a stunning beige dress.
The event was known to be a Preview Best Dressed Ball. She entered the venue's hall with her close friend in showbiz named Megan Young.
Andi's look during the event seems to define the kind of character she has now. From funky clothes like any other teenagers, the young actress faces her fans with simplicity and a more delicate outfit during the event held in Taguig City.
The 21-year-old celebrity even told reporters that what she wears definitely describes the changes in her life after all.
The young star is pregnant for nearly five months already. However, the name of her baby's father is still kept confidential as she and her family choose not to state his name.
On the brighter side, Jaclyn Jose still remains strong to defend her daughter amidst scattering speculations. Jose even shares that she is somehow proud of her daughter for her decision of keeping her baby.
There were no further interrogations made towards the actress because she immediately left the place after the event.
The way she carried herself right in front of everybody only describes that she is doing well. She appeared to be proud and happy despite being stoned with various comments.