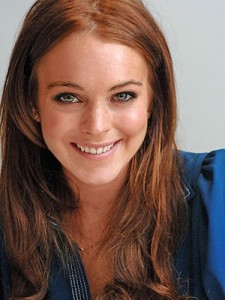 After being into the headlines of various news papers and television shows, making her to be one of the much talk and controversial personalities not just in Hollywood but also in the world, 24 year old, Lindsay Lohan is back in the front page, this time in a news favoring to her.
Just recently, LiLo was sentenced of four months of being into jail due to thief. She had stolen a necklace in a store in Los Angeles costing $2,500.
The good thing for now is that she had won the restraining order she had been asking from the court against a man who've been stalking to her for four long years already.
According to LiLo, this man named David Cocordan has been sending her explicit messages talking about sex throughout this time. Furthermore, this man used to left presents such as heart shaped chocolates in her residence. Aside from that, this man has a collection of articles in magazines all about LiLo, then he would scribble his name on that articles and left it at her house.
Since 2009, Cocordan has been texting her and he even believes that he is engaged to marry her and that they had a romantic relationship together. Police believes that Cocordan is is schizopheric-  a mental disorder characterized by a disintegration of thought processes and of emotional responsiveness. It most commonly manifests as auditory hallucinations, paranoid or bizarre delusions, or disorganized speech and thinking, and it is accompanied by significant social or occupational dysfunction. The police also added that Cocordan might not be taking its medication leading him to act that way.
The issuance of the restraining order is a relief for LiLo who had been receiving unwanted calls and text messages from Cocordan which already run to more than 100 times. Cocordan side is being reached in order for him to express his stand towards this new development in the case, however, he is not responding up to this moment.
On June 8, court hearing is set in order to decide and come up to a decision whether to raise the restraining order into the permanent stage given against Cocordan.
LiLo is Hollywood's one of the most admired actress who is always on top of the news due to repeated imprisonment, involvement to drugs and being present to courtrooms. Prior to her latest case, instead of four months sentenced in jail, chances is that she will be under house arrest and will undergo it for 16-17 days only, and that house arrest might begin in the mid of June.
comment(s) for this post "Lohan wins restraining order against phone texter". Tell us what you think abut this post by leaving your comments below.