Vanessa Hudgens the sensational star of Disney's High School Musical was the main character of the film Beastly, a modern-day version of The Beauty and the Beast. Vanessa became famous for her portrayal of Gabriella Montez in High School Musical opposite Zac Efron.
Vanessa Hudgens was born on December 14, 1988 in Salinas, California. Her mother Gina Guangco was a native of Manila, Philippines with Fillipino-Chinese descent. The father of Vanessa, Gregory Hudgens was an Irish with native American descent. Her younger sister Stella Hudgens was also an actress.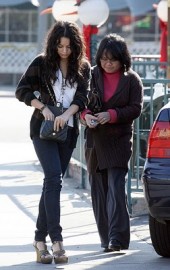 Vanessa Hudgens was one of Hollywood's top-earning stars. Her mother tried to teach her Tagalog and she learned some Filipino words but she admits that she is not really good at it. What she loved about the the Philippines was the filipino food. She likes pancit, halo-halo and adobo. Eating rice everyday is part of her daily life.
Vanessa Hudgens' latest film Beastly was inspired by Disney's popular Beauty and the Beast series with a twists. The film was based on Alex Flinn's novel with the same title. She will play as Lindy Owens the main female character of the story.
The main male character of the story was Kyle Kingson, a handsome arrogant man with an evil streak that have been transformed into a grotesque monster. It was played by Alex Pettyfer.
The Beastly films will hit American theaters today March 4, 2011.
[youtube]http://www.youtube.com/watch?v=Neo6W1f7hyY[/youtube]