Lea Salonga became a trending topic on Twitter because of this video
Broadway Diva Lea Salonga experienced "rude" behavior from her fans and the video showing this incident went viral.
On July 17, Lea's name is one of the trending topics on Twitter. Netizens were talking about the video in which she was in her dressing room and fans were requesting her have a photo with them.
Twitter user @erwinaurella shared the video posted on @MadamWanderBeki's Twitter page. "Lea Salonga was not wrong to insist on respecting her personal space in this instance. These "fans" are beyond entitled and rude. But my key takeaway here is there's no one managing or securing their backstage area?" the caption of the post stated.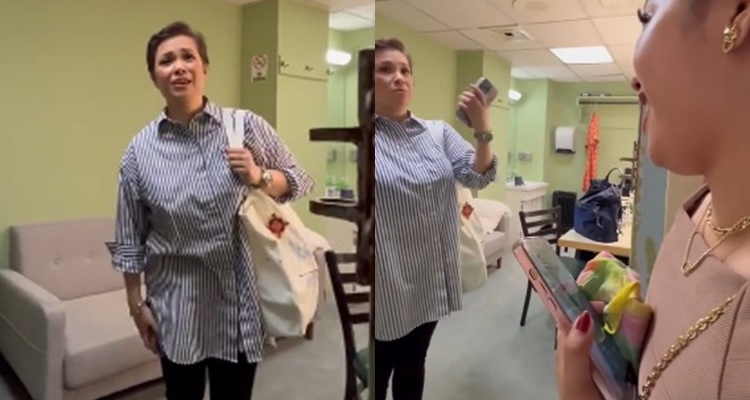 The video starts at the moment when two people were about to get out of Lea's dressing room and were thanking her. Apparently, they were talking and the singer-actress was seen smiling as she was saying goodbye.
Then, the person behind the camera said hi to Lea Salonga and asked her if they can take photos with her. The Broadway diva politely said, "I'm so sorry, I don't know who you are." The person said that they are fans.
Lea obviously let out a sigh and explained that if they are not on the guest list, they are not allowed in the dressing room. She even instruct the fans where they could wait for photo-taking.
She also said that if she will allow what the fans want to happen, then, this might be an opportunity for other people to take advantage in the future. A woman said that she is a friend of former actress G Tongi, who is a co-producer of the show.
Lea insisted that they were not on the guest list and asked the fans to wait for her at the door. After saying this, the fans were apparently not ready to leave her dressing room yet and so she kept on explaining that this is for their safety also.
Then, the singer-actress just said that she will walk with them to the area where they can wait. Lea Salonga said, "Please don't do this again," and the man behind the camera said, "yeah" and said sorry.
In the comment section, Lea said that she asked G about this and the latter has no idea who those people are.
What can you say about this?
RELATED ARTICLE: Lea Salonga 1st Filipino To Perform At White House State Dinner
Please like and follow/subscribe:
Philnews.ph FB Page
Philnews YouTube Channel
Watta Beautiful Life FB Page