MANILA, PHILIPPINES – Popularly recognized as a smartphone company that creates cutting-edge products, vivo has consistently excelled in giving customers high-performing phones with beautiful and fashionable designs.
The idea of elevating cameras was first introduced by the smartphone company vivo, and it eventually became quite popular with consumers. The world's first half-screen in-display fingerprint scanning technology, which fundamentally alters how phones function today, was also made available for the first time.
Vivo has added another innovation known as "Photochromic Technology" to several of its phone models in order to consistently meet peoples' growing desires for future smartphone style and design.
The backplates of smartphones may effortlessly change color in a matter of seconds when exposed to ultraviolet (UV) radiation or sunshine thanks to a groundbreaking invention called photochromic technology.
Thanks to the anti-glare and scratch-resistant glass on the back screen, vivo's newest Photochromic Technology gives layers of color grading effect.
The color-changing feature of vivo allows customers to have two different colors on one phone, making it more enticing, distinctive, and fashionable than any other smartphone company that normally only offers variations of colorways for a certain phone.
Only the V Series models from vivo, specifically the  V27 5G, V25 5G, V25e, V25 Pro, and V23, are equipped with photochromic technology.
vivo V27 5G
In March 2023, the vivo V27 5G was introduced. On its Emerald Green colorway, it has the Photochromic 2.0 version, which when exposed to UV or sunlight can transform to a darker shade of green. 
The effect of its color-changing is much quicker than that of its predecessor because it uses the most recent technology. It reacts and responds to light more quickly.
The vivo V27 also boasts Photochromic 2.0, 12GB RAM + 256GB ROM, a 120Hz refresh rate, a 3D curved screen, EIS + OIS Dual-ultra stabilization, the Aura portrait technology, and a Sony IMX 766V sensor.
vivo V25 Series
vivo V25 series—which includes the vivo V25e, V25, and V25 Pro— was available in September 2022. It also has the Photochromic 2.0 version.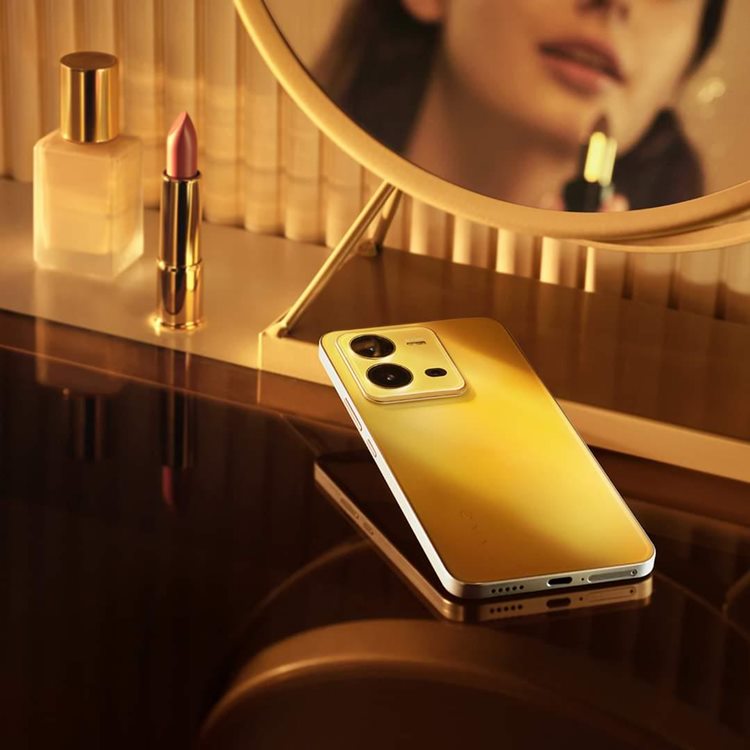 The back panel of the vivo V25e is made of fluorite anti-glare glass, which transforms its color from gold to orange. In addition to the color-changing feature, it has a 32MP selfie camera, 64MP + 2MP + 2MP triple back cameras with OIS, and a 6.44-inch FHD+ AMOLED display with a 90Hz refresh rate. Additionally, it has an 8GB RAM MediaTek Helio G99 CPU, Android OS 12, and Funtouch OS 12 UI.
The vivo V25 5G comes in three color options: Aquamarine Blue, Sunrise Gold, and Diamond Black. It boasts a 64MP OIS ultra-sensing camera and 12GB RAM + 8GB expanded RAM. The Sunrise Gold, one of the various hues, has a photochromic function that converts it into a lovely orange-red hue that is undoubtedly remarkable and nicely complements the wearer's sophisticated style.
The  vivo V25 Pro, meanwhile, has the ability to change color when viewed from various angles. When exposed to sunlight or UV light, it naturally transforms from a light blue tint into a darker shade of blue. The two colors it comes in are Surfing Blue and Starlight Black.
Additionally, it boasts a 32MP selfie camera with eye autofocus and a 64MP + 8MP + 2MP triple rear camera system with OIS. It also sports a 6.56-inch FHD+ curved-edge display with a 120Hz refresh rate. Additionally, it is equipped with a MediaTek Dimensity 1300 CPU, Android OS 12, and the Funtouch OS 12 user interface.
vivo V23
Last but not least, the Vivo V23 has Photochromic 1.0. The color-changing effect lasts a little bit longer because it is the first photochromic technology ever created. However, it continues to provide the same photochromic experience as the other Vivo phones. It features a contemporary appearance and is cozy to hold.
The V23 has an Android operating system, an Octa-Core CPU, a 6.44-inch display, 64 + 8MP back camera and 50 + 8MP front cameras, and a 4200mAh battery.
vivo's Photochromic Technology 
The smartphone business has been completely changed with the incorporation of Photochromic technology into vivo's products.
Vivo phones now instantaneously offer a new ambiance and experience when using the phone thanks to this innovation. Customers may now alter and even design their phones' backplates to create unique designs.
Experience the beauty of photochromic technology for yourself. Get a vivo phone that changes colors right away!
###
About vivo
vivo is a technology company that creates great products based on a design-driven value, with smart devices and intelligent services as its core. The company aims to build a bridge between humans and the digital world. Through unique creativity, vivo provides users with an increasingly convenient mobile and digital life. Following the company's core values, which include Benfen*, design-driven value, user orientation, continuous learning, and team spirit, vivo has implemented a sustainable development strategy with the vision of developing into a healthier, more sustainable world-class corporation.
While bringing together and developing the best local talents to deliver excellence, vivo is supported by a network of R&D centers in Shenzhen, Dongguan, Nanjing, Beijing, Hangzhou, Shanghai, and Xi'an, focusing on the development of state-of-the-art consumer technologies, including 5G, artificial intelligence, industrial design, imaging system, and other up-and-coming technologies. vivo has also set up an intelligent manufacturing network (including those authorized by vivo), with an annual production capacity of nearly 200 million smartphones. As of now, vivo has branched out its sales network across more than 60 countries and regions and is loved by more than 400 million users worldwide.