The mindblowing surge in the popularity of online casinos provoked a technological rebirth of the gambling industry. Which changes impacted online casinos?
In a recent analysis, casinoalpha.co.nz, an online casino comparison service, used financial market predictions and user preference surveys to see what 5 areas of interest will bloom in the next decade.
The future looks bright for the industry
The gambling market to reach $153 billion before 2030. As countless players migrated from land-based casinos to online alternatives, tech's revolutionary features and the iGaming innovations dictate the prospects of the ever-growing gambling industry.
The gambling industry has skyrocketed during the past few years. In 2021, the online gambling sector was estimated globally to have reached a revenue of $57 billion, and numbers show that, in less than three years, the value of this market will triple.
The beginning of casinos' popularity
From sports betting and online casinos to bingo sites, all segments in the gambling sector have undergone major changes, especially in the technological areas. Several casinos started transitioning to online services, which had a massive impact on casinos' income.
Online gambling has become a competitive market, and to crawl their way to the top, online casinos had to bring something different to make their business stand out, and here are the main additions.
Mobile gaming
Long gone are the days when we had to use a computer to go online. Now, everything is at a click distance. Mobile devices have been playing a crucial role for online businesses to succeed on the market as most gambling companies began working towards improving customers' mobile gaming experience.
Another reason for online casinos developing a mobile app or implementing a mobile-friendly website is that Google's algorithms maintain a strict policy for mobile-friendly casinos to rank better in the search results. Hence, online casinos that have not adapted their website for mobile reach will rank worse due to Google's algorithm.
Cryptocurrency payments
Crypto payments are another feature that brings a lot of traffic to online casinos. In recent research done by Deloitte, more than 85% of merchants claimed that "digital currency payments will be ubiquitous among suppliers in their industry in five years", and that their customers showed high interest in using cryptocurrencies as payment methods.
Crypto payments offer numerous benefits for users like safe and private transactions and also fast transfers.
What other payment methods are available?
When you gamble online on legitimate and high-rated gambling platforms, you can select between cashless payments through credit cards or other third-party services. It depends on what form of payment offers the benefits you need.
Live casinos
This feature was the extra mile online casinos had to go through to reach superior technical improvements. Live casino games are a new trend players can enjoy by accessing remote platforms where land-based casino games are broadcasted to online customers. Hence, players can play their favorite games in real-time with a live dealer.
Also, live casino games bring casinos top reviews, and it attracts significant traffic as the popularity of such casino games is evergrowing.
Virtual reality
Once only a concept, virtual reality has crossed the bridge between imagination and real life, bringing a whole new gaming experience to players around the world. Virtual reality has the role of recreating an authentic casino experience for online users, imitating one's classic visit to a physical gambling hall as users are able to communicate with other players and staff members.
However, this feature is not available at most casinos and is limited to a particular technology due to its specific hardware. For users who are curious about this new implementation, they have to get a special VR headset.
Artificial intelligence
When people hear of AI developements, they think of robots replacing humans and taking over the world. However, nowaday, artificial intelligence technology aids both online casinos and players. If you don't know exactly how it works, a quick example would be the recommendations you get on streaming platforms based on your searches – these are possible through predictive modeling and machine learning results.
As for online casinos, the artificial intelligence facet can be recognised through features such as live chat – a helpful tool for customers as they can get in touch with the support team. Live chat is an option vital for gambling sites with high traffic as it manages to support clients through any problem they encounter at a casino.
What other innovative features can we expect in online casinos?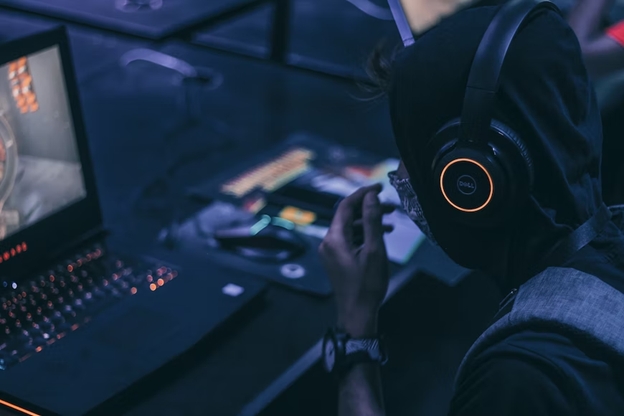 As the gambling sector becomes increasingly competitive, online casinos will have to maintain the market's demands and even top them with other exciting new additions to enhance gamblers' experience. So, we can expect gambling sites to introduce additional features to keep their customers engaged.
Games based on voice controlling
The gaming business has so many advanced features, so users' expectations of their preferred games are higher. The already-implemented features in online casinos make gamers' experience easier and more pleasant. However, this doesn't mean things can't get any better, and a new option of voice-controlled games may take the gaming and gambling sector by storm in the near future.
Thus, not only would players benefit from smoother gameplay, but a game controlled by voice can bring a whole new experience for people who suffer from different conditions and cannot exploit standard gaming devices.
Today's online casinos bring more to the table
It's no question that the current average casino is so different from the typical gambling hall we would have imagined years ago. As technology continues to evolve rapidly, so does the gambling industry, as gambling site owners must constantly step up their game to keep attracting new customers.