Sunshine Cruz Bonds with the Current Partner of Cesar Montano Kath Angeles
Seasoned actress Sunshine Cruz bonds with the current partner of her ex-husband Cesar Montano, Kath Angeles.
Sunshine Cruz posted a picture of her daughters with Ma Socorro "Kath" Angeles, who is currently Cesar Montano's partner, on Instagram. On December 1, 2022, Sunshine and Kath once more became close.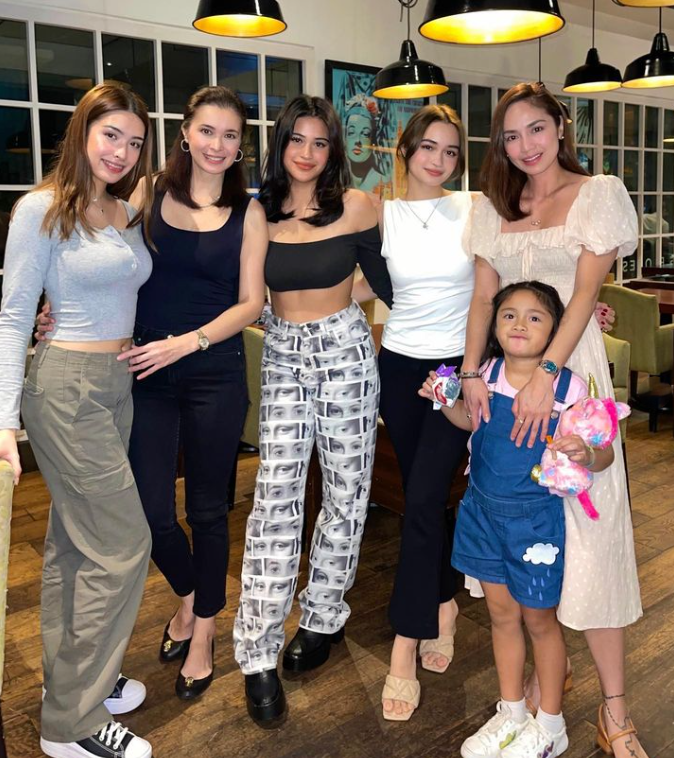 The occasion of Sunshine and Cesar's youngest child, Chesca Montano, turning 17 brought them together. Kristen, Cesar's daughter, was with Kath. Sam Cruz and Angelina Cruz, Chesca's other two siblings, were also present.
Sunshine posted a picture of her and Kath with their kids on Friday, December 2. The actress claimed that her three children are fortunate to have a new "Aunt" in the caption.
Sunshine's full caption, "Happy to see you last night @maarriiaaa05 & Kristen. Chesca, as well as Sam and Angelina are truly blessed to gain an Aunt Kath.
"Thank you for loving the three girls. They are grateful to you and they love you, their father and their siblings," she added.
On September 23, 2022, the day when Sunshine and Cesar's first child, Angelina, turned 21, Sunshine and Kath first got to know one another. Sunshine has referred to her and Kath's arrangement as a "blended family" ever since the internet community praised her politeness with Kath.
The turmoil in their family has reportedly come to an end, and they are settling down, according to the actress' post on Facebook on September 27. The past should supposedly be forgotten so that everyone can appreciate the present.
They remain family at the end of the day. She claimed that after praying for it, God granted it to her.
"We are family afterall. Sabi ko nga 'in God's perfect time'. I prayed and I believed that this will eventually happen and it was given to me and my family," Sunshine wrote in her previous post.
"Sa mga pamilya na merong pinagdadaanan, remember time heals all wounds and darating din ang 'God's perfect time' for all of you. Hindi pwedeng madaliin. Be patient and don't get tired dahil ibibigay NYA yan sa inyo. It could take years but for sure maghihilom ang pain at sugat and everything will be ok soon!" she added.
READ ALSO: Rachelle Ann Go Pregnant With Second Baby, Celebrities Leave Comments
What are your thoughts on this article? Just feel free to leave your reactions in the comment section.
Thank you for taking the time to read this. We aim to give the freshest and in-demand content to our visitors. Come back next time at PhilNews for more updated news.