Here are the BAR Results 2022 Including the Batch 2020-2021 Performance of Law Schools
BAR Results 2022 – Here is the Batch 2020-2021 Performance of Law Schools for February 2022 BAR Examination Results.
On Tuesday (April 12, 2022), the Supreme Court has released BAR Exam Results 2022 including the list of passers and topnotchers as well as the Performance of Law Schools. A total of 8, 241 out of over 11, 000 exam takers have passed the exams.
About 14 bar takers earned recognition for having grades higher than 90% while 761 earned recognition for obtaining grades ranging from 85% to 90% based on the recent BAR Results.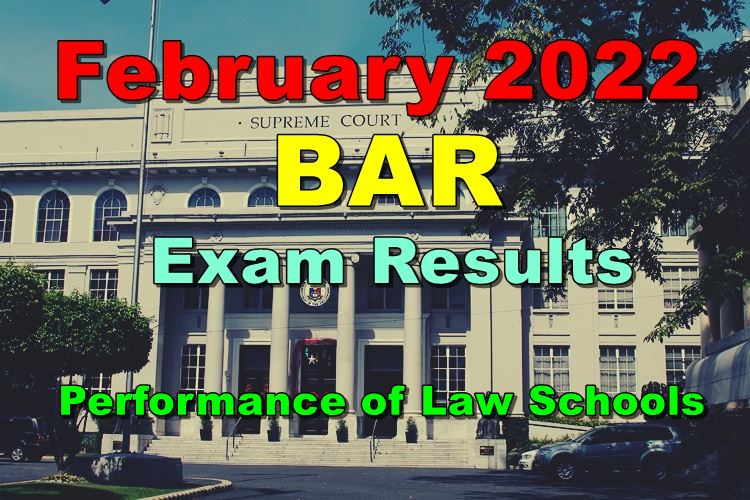 The digitalized BAR examinations for batch 2020-2021 has been the largest batch of examinees in the Philippine history.
BAR Examinations Chairperson, Justice Marvic M.V.F. Leonen in partnership with several Local Government Units (LGUs) in the country conducted the Philippines lawyer's examination.
SUMMARY OF RESULTS
Here are the Performance of Law Schools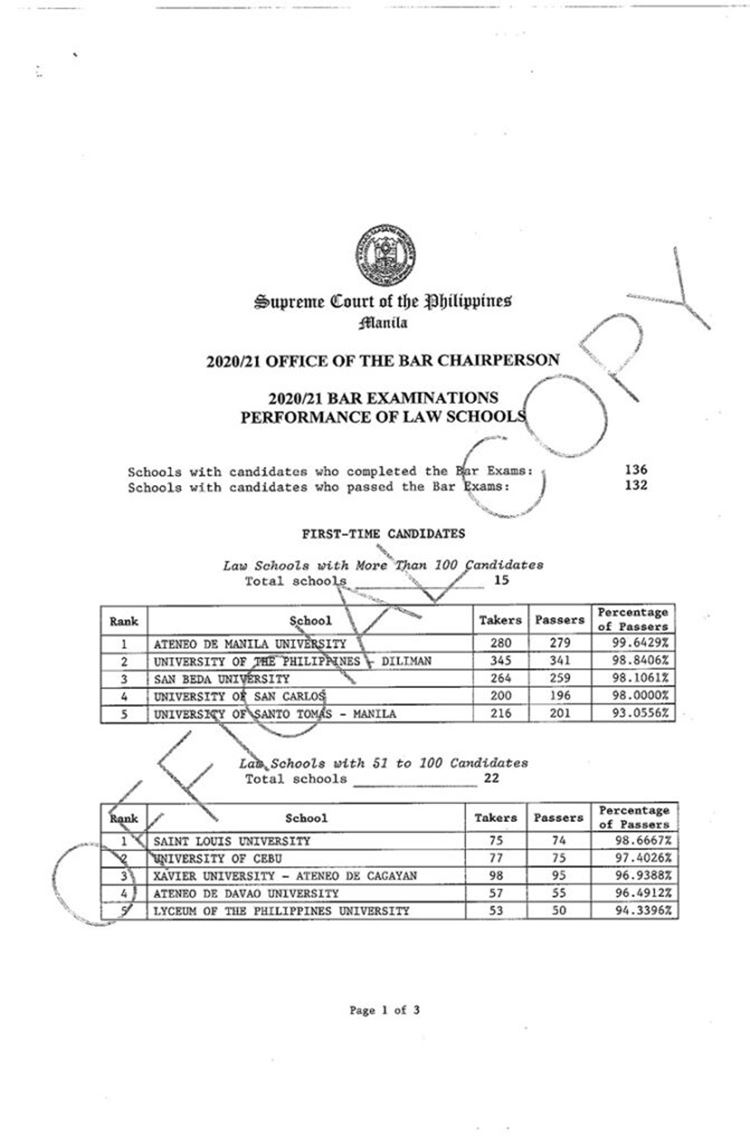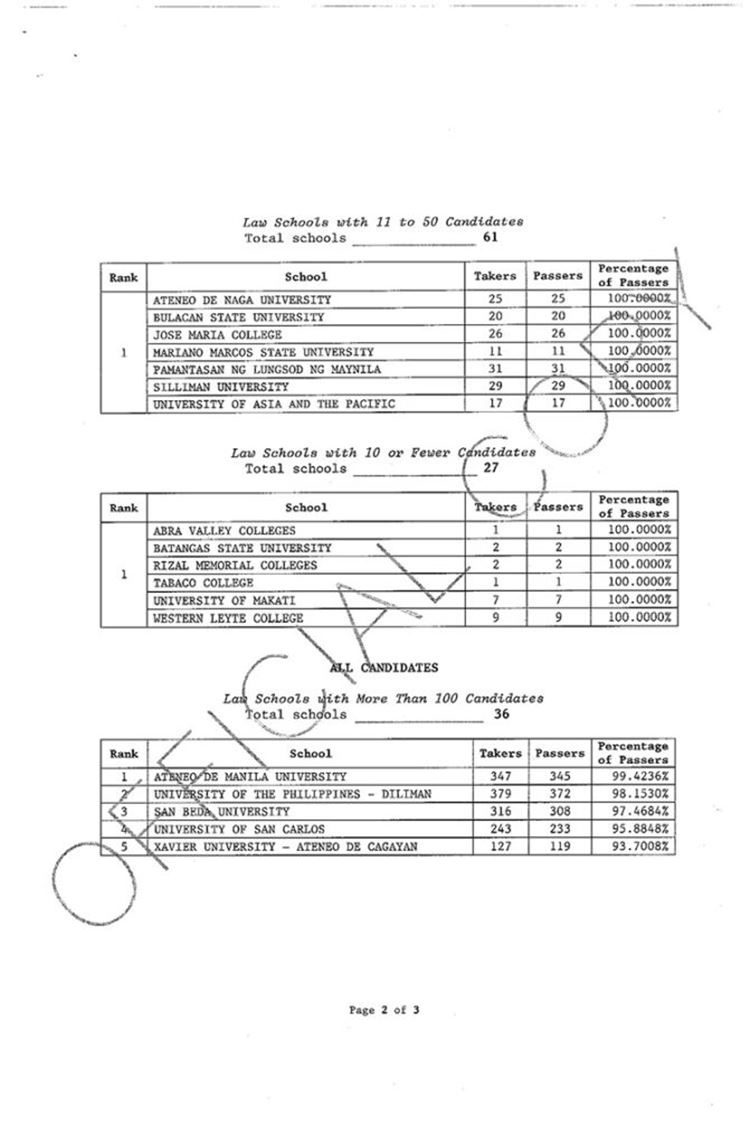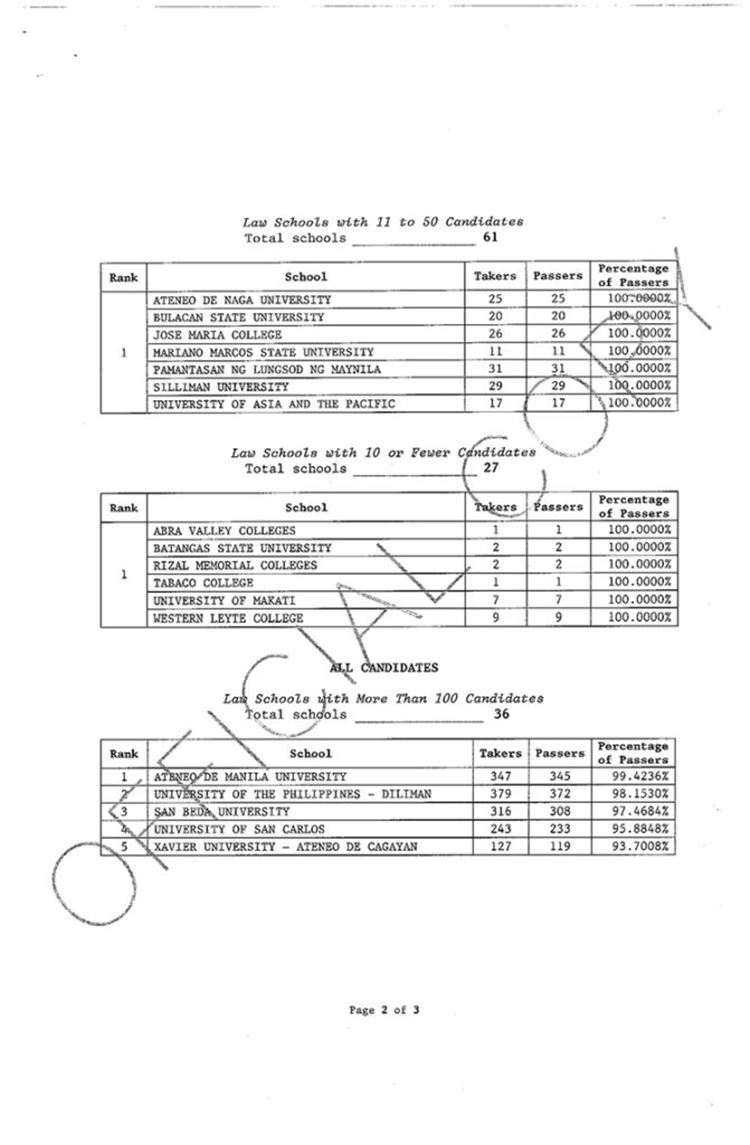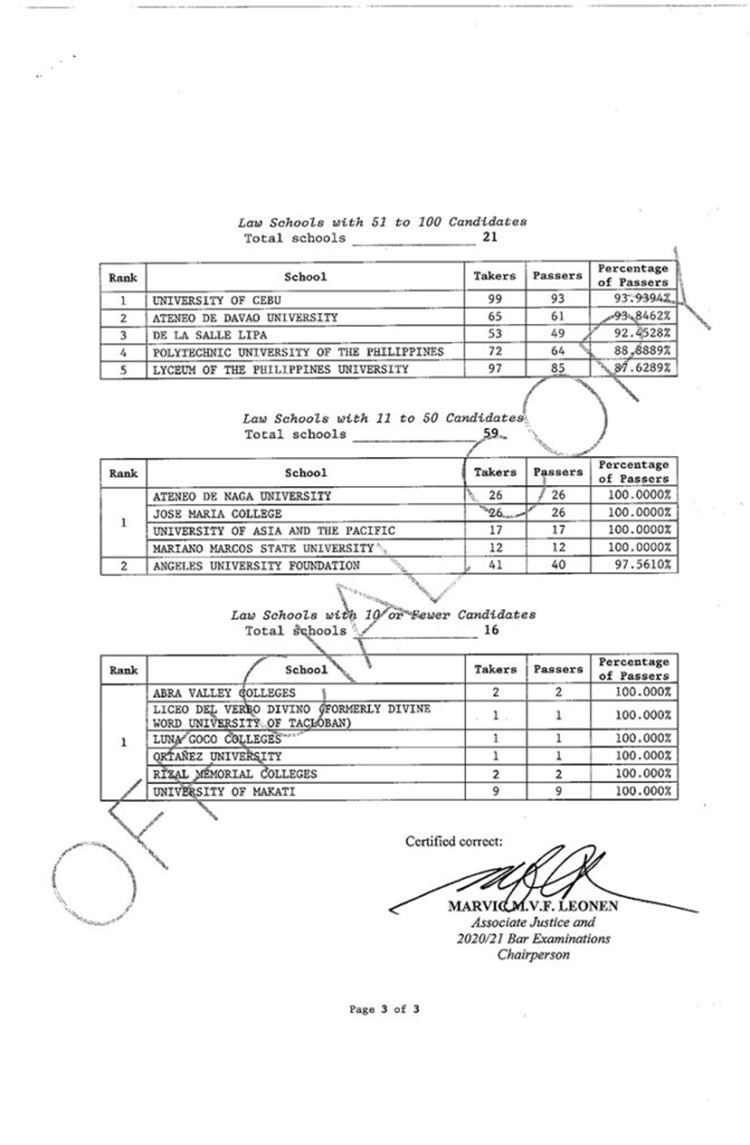 The BAR 2022 batch 2020-2021 have been given at thirty-one (31) local testing sites in the National Capital Region (Makati, Pasay, Manila, Quezon City, and Taguig City), Baguio City, San Fernando City-La Union, Tuguegarao City-Cagayan, Bayombong – Nueva Vizcaya, Angeles-Pampanga, Lipa City-Batangas, Calapan City-Oriental Mindoro, Naga-Camarines Sur, Iloilo City, Bacolod City, Cebu City, Dumaguete City, Tacloban City, Zamboanga City, Cagayan de Oro City, Iligan City, Davao City and General Santos City.
The licensure exams have been conducted last February 4 and 6 from 31, 2022. .
Exam Coverage
Political Law – Preliminary provisions and basic concepts, legislative department, executive department, judicial department, constitutional commissions, bill of rights, citizenship, law on public officers, administrative law, election law, local governments, national economy and patrimony, social justice and human rights, education, science, technology, arts, culture and sports, the family, amendments or revisions of the constitution and public international law.
Labor Law – General provisions, pre-employment, labor standards, social welfare legislation, labor relations, post-employment, management prerogative and jurisdiction and reliefs.
Civil Law – General principles, person & family relations, property, succession, obligations and contracts, sales, lease, partnership, agency, credit transactions, land titles and deeds and torts and damages.
Taxation Law – General principles, national taxation, local taxation and judicial remedies.
Mercantile Law – Letters of credit and trust receipts, negotiable instruments law, insurance, transportation, corporation law, securities regulation code, banking, intellectual property code, anti-money laundering act, electronic commerce act, data privacy act and financial rehabilitation, insolvency, liquidation and suspension of payments.
Criminal Law – Revised penal code – book 1 and 2, special laws including anti-arson law, anti-fencing law, anti-graft and corrupt practices act, anti-hazing act of 2018, anti-hijacking law, anti-photo and video voyeurism act of 2009, anti-plunder act, bouncing checks law, cyber-crime prevention act of 2012, among others.
Remedial Law – General principles, jurisdiction, civil procedure, provisional remedies, special civil actions, special proceedings, criminal procedure, evidence, write of "AMPARO", writ of "HABEAS DATA", and rules of procedure on environmental cases.
Legal and Judicial Ethics and Practical Exercises
Thank you for visiting Philippine Trending News (Philnews.ph). You may also follow us on the following social media platforms; Facebook, Twitter, and YouTube.