Here Is The Meaning Of "Awit Lods" In Tagalog
AWIT LODS – The phrase "awit lods" is inescapable, especially if you're on the internet and playing online games, but what exactly is its meaning?
First of all, we need to understand the meaning of the word "awit" in this context. Traditionally, awit is the Tagalog word for "sing". However, "awit" in today's internet slang is derived from two words "awww" and "sakit".
Nowadays, you'd see the word used to describe a situation that's rather unfortunate. For example, if you're playing a game and you died, you could type "awit" to express your sorrows.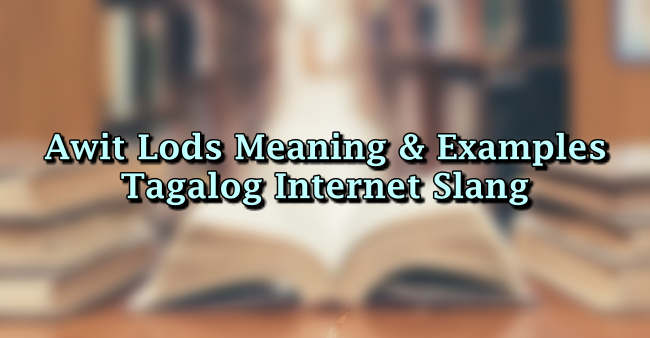 Meanwhile, the meaning of the word "lods" is derived from "idol". Initially, people changed the semantics of the word by switching "lo" with "di" to create "lodi".
This was also popularized during the early 2000s with the song Noypi which is the inverse of "Pinoy". The lyrics in the song also go further with this as written in the chorus: "Nosi nosi ba lasi, sino, sino ba sila?"
But, in the case of "awit lods", only the "lods" part has this semantic change. Combining the two words, however, simply means the same thing – expressing an unfortunate situation.
You could also say this to somebody that's going through something hard, difficult, or unfortunate. Let's say your best friend just broke up with his girlfriend. In this situation, you could tell him "awit lods", not that it would help his situation get better.
Thanks for reading. We aim to provide our readers with the freshest and most in-demand content. Come back next time for the latest news here on Philnews.
READ ALSO: Cohesive Devices Tagalog – Halimbawa At Kahulugan
comment(s) for this post "Awit Lods Meaning & Examples – Tagalog Internet Slang". Tell us what you think abut this post by leaving your comments below.