Did Parlade Compare AP Non To Satan During Interview? – Netizens Ask
PARLADE ON AP NON – Lt. General Antonio Parlade Jr., spokesperson of the counterinsurgency task force had a lot to say about Ana Patricia Non.
Non, the initiator of the first "Community Pantry" said she was victim to "red-tagging" from authorities. Meanwhile, Parlade himself somewhat confirmed this saying that "we're just checking the background" of the organizers.
Because of the red-tagging, Non had to temporarily halt operations of the community pantry out of fear. Luckily, with enough support from the community, the Pantry is now up and running.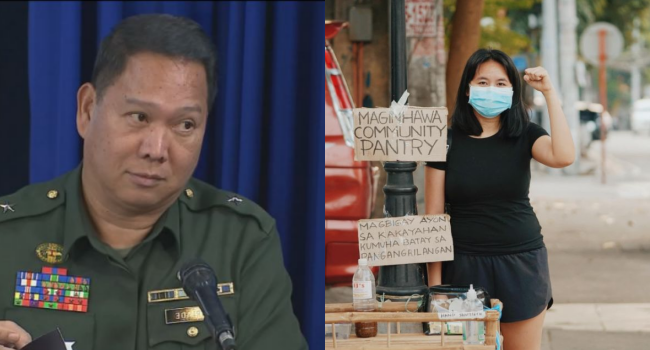 However, Parlade had some polarizing words regarding Non and her initiative. During an Interview with ONE NEWS, Parlade said he had "little information" on AP Non. Furthermore, he was teasing the hosts saying that "It's all he can say for now".
In the interview, Parade said:
"Right now, I cannot tell you specifically, wala naman akong puwedeng isabi sa inyo sa ngayon. Maybe tomorrow, puwede kong sabihin, and maybe we can explain to the people why we are acting like this.", he added.
Then, he said that the public shouldn't be quick to sympathize with organizers, "pa iyak-iyak pa yung tao, may drama pa, kung ano-ano, I'm not saying sinadya niya 'yon. But, from the little knowledge that I know of Ana, kaya niyang gawin yon kasi member siya ng ganito."
Shocked, the hosts asked Parlade to explain his statement. He responded saying that it was only a "hypothetical". Still, Parlade wasn't finished. The host emphasized that AP Non, as an individual, merely wanted to help.
As a response, Parlade stated:
"Isang tao lang 'yan diba? Isang tao lang is Ana. Same with Satan, binigyan ng apple si Eve. Doon lang nagsimula 'yon".
Because of this, netizens are furious after Parlade seemingly compared AP Non to Satan saying that even if Ana is just by herself, she could start something much like Satan did with Eve.
What do you think? Leave a comment below!
READ ALSO: Helpless Grab Driver Gets Emotional After Cop Gives Him Violation Ticket