What Is Curfew? Definition And Usage Of This Term
WHAT IS CURFEW – In this topic, we are going to know and learn the definition of this term and how is this term used in sentences.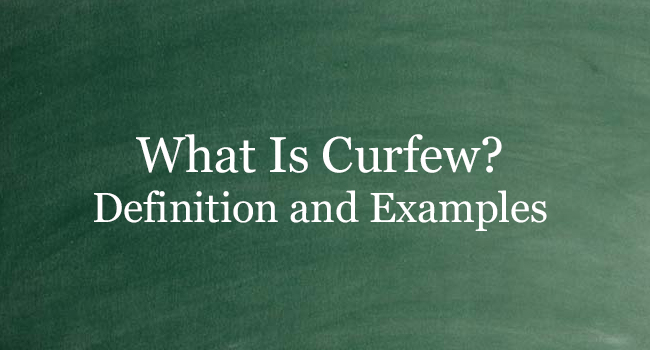 Definition

The Oxford Dictionary defines the term as the following:
a regulation requiring people to remain indoors between specified hours, typically at night.
the hour designated as the beginning of the said regulation.
a daily signal indicating the start of the said regulation.
Meanwhile, the Merriam-Webster dictionary defines this term as the following:
a regulation enjoining the withdrawal of usually specified persons (such as juveniles or military personnel) from the streets or the closing of business establishments or places of assembly at a stated hour
a requirement that someone (typically a child) be home by a particular time
the hour at which the said regulation becomes effective
Synonyms

Here are some of the following synonyms:
Vesper
alarm
buzz
buzzer
carillon
chime
clapper
curfew
ding-dong
dinger
gong
peal
ringer
siren
tintinnabulum
Etymology

It is an Middle English term, which is from Old French cuevrefeu, which is a combination of the terms cuvrir or 'to cover' and  feu 'fire'. 
Examples

Here are some examples of the usage of this term:
Thousands of people have taken to the streets in defiance of the curfew.
The local administration says the curfew is a precautionary measure.
The police managed to restore calm and the curfew was partially lifted.
Many people are in favour of a curfew on young people.
READ ALSO: What Is Frost? Definition And Usage Of This Term
comment(s) for this post "What Is Curfew? Definition And Usage Of This Term". Tell us what you think abut this post by leaving your comments below.