What Is Burial? Definition And Usage Of This Term
WHAT IS BURIAL – In this topic, we are going to know and learn the definition of this term and how is this term used in sentences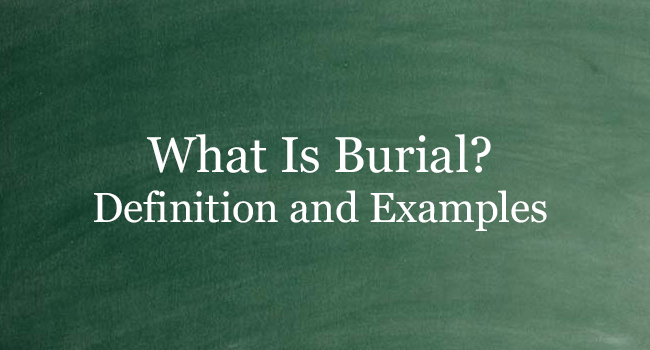 Definition

The Oxford Dictionary defines the term as the following:
the action or practice of interring a dead body.
a ceremony at which someone's body is interred; a funeral.
a grave or the remains found in it.
Meanwhile, the Merriam-Webster dictionary defines this term as the following:
grave
tomb
the act or process of burying
Synonyms

Here are some of the following synonyms:
burying
interment
committal
inhumation
entombment
funeral
obsequies
funerary rites
sepulture
exequies
Etymology

It is from the Old English term byrgels , which means 'place of burial, grave'.
Examples

Here are some examples of the usage of this term:
In one country he meets with women who, after the burial in the winter, become alive again in the spring full of youth and beauty.
Martha suggested an appropriate burial for the tiny remains she dubbed "Pinkie" and services were conducted in the back garden, next to Mrs. Lincoln's last winter mouse-victim.
His remains were laid in the burial place of the Sheffield family, Fletching, Sussex, where an epitaph by Dr Parr describes his character and work in the language at once of elegance, of moderation and of truth.
In the order of the events, at least, Sophocles departed from the original legend, according to which the burial of Polyneices took place while Oedipus was yet in Thebes, not after he had died at Colonus.
READ ALSO: What Is Bury? Definition And Usage Of This Term
comment(s) for this post "What Is Burial? Definition And Usage Of This Term". Tell us what you think abut this post by leaving your comments below.