What Is Rejoice? Definition And Usage Of This Term
WHAT IS REJOICE – In this topic, we will first know the definition of this term and how is this term used in sentences.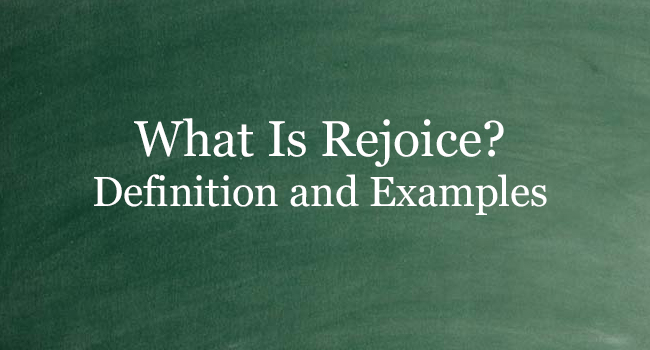 Definition

The Oxford Dictionary described this term as the following:
feel or show great joy or delight.
cause joy to.
On the other hand, the Merriam-Webster Dictionary defines this term as the following:
to give joy to
to feel joy or great delight
Synonyms

Here are some of the following synonyms:
happiness
pleasure
joy
gladness
delight
elation
be joyful
be happy
be pleased
be glad
be delighted
be elated
crow
delight
exuberate
exult
glory
Etymology

It is a Middle English term which is from the Old French rejoiss-, which is the lengthened stem of rejoir, which means 'experience joy'.
Examples

Here are some of the examples:
Then it would suddenly seem to him that it was not she but he was so unusually beautiful, and that that was why they all looked so at him, and flattered by this general admiration he would expand his chest, raise his head, and rejoice at his good fortune.
While styling time may be increased if you're battling natural curl or frizz, straight haired ladies can rejoice at the little effort required in a long and layered thick hair cut.
While of course there are those who are disappointed in the outcome of the awards ceremony, others rejoice to discover they are winners of the distinguished award.
Indie kids rejoice – one of the most influential albums by one of the most influential bands of the early 90s has been remastered, and if possible, is sounding better than ever.
READ ALSO: What Is Dismal? Definition And Usage Of This Term