Raining Cats And Dogs – Meaning And Possible Origin Of This Expression
RAINING CATS AND DOGS – In this topic, we are going to know the meaning and origin of the expression "raining cats and dogs".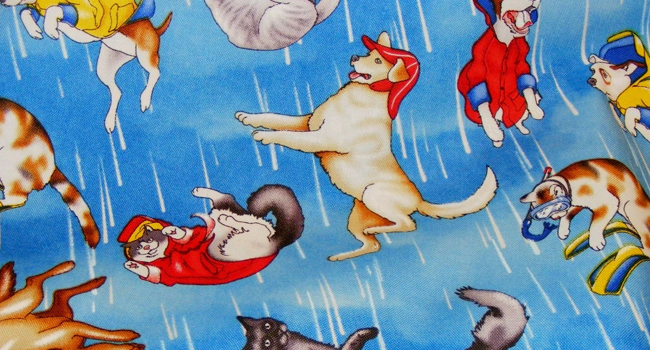 Meaning

This expression is used to describe a particularly heavy rain.
The first recorded use of this term was in Olor Iscanus, a 1651 collection of poems by British poet Henry Vaughan. Vaughan referred to a roof that was secure against "dogs and cats rained in shower." according to the Library of Congress.
Possible Origins

Etymologists deduced that it might have come from the following:
Norse Mythology

Odin, the Norse god of storms, was usually depicted with dogs and wolves, which are representations of wind. Witches, on the other hand, were often pictured with black cats. Sailors see this as a signs of heavy rain. The expression might have possibly refer to a storm with wind and heavy rain.

Greek Expression

It might have come from the Greek expression cata doxa or "contrary to experience or belief." The expression might mean it is raining unusually or unbelievably hard.

"Catadupe"

Cats and dogs might have been the corrupted form of catadupe, which means  cataract or waterfall.
READ ALSO: Nemo Me Impune Lacessit – Meaning Of This Latin Phrase