Sick People Sleep On Sidewalk Next To Hospital Just To Get Help
SICK PEOPLE SLEEP ON SIDEWALK – A heartbreaking scene was captured on the streets of Bacolod.
The sick slept overnight in front of the Corazon Locsin Montelibano Memorial Regional Hospital just to get a priority number for a doctor's appointment. Spread-out cardboard boxes and newspapers were used as a bedding while they tried to catch some sleep.
According to a report from the Daily Star, some had even returned to the same sidewalk repeatedly as they weren't able to line up earlier to be included in the quota.
During the advent of the coronavirus epidemic, one of the major concerns was the lack of health care facilities in the Philippines. After around 100 days of quarantine, this was further emphasized as hospitals run out of bed space and the capacity to entertain patients.
READ: 2 Sick Children Died After Being Turned Away by Gov't Hospitals
As per the report, the Bacolod Regional Office only had a capacity to accept 120 outpatients from 8:00 AM till noon. Dr. Julius Drilon, CLMMRH chief explained that the hospital lacked resources and manpower.
In addition, the hospital does not accept patients during Saturdays, Sundays, and holidays. Due to this, patients are left lining up as far as a day before just to get a chance to have a doctor look at their condition.
Upon knowing about the condition of these people, members of the Bacolod Barter Community reached out for help. Some members wanted to barter their old bags for cardboard boxes to donate to the people lining up overnight in front of the hospital.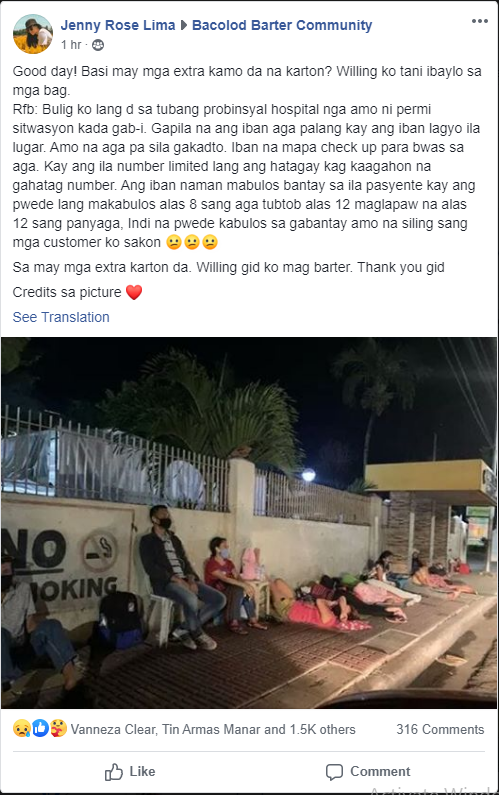 Thanks for reading. We aim to provide our readers with the freshest and most in-demand content. Come back next time for the latest news here on Philnews.
READ ALSO: Poor Infant Died After Hospital Refused to Give Medical Assistance