PHIVOLCS – Hazardous Eruption Still Expected In Taal Volcano
PHIVOLCS – The Philippine Institute of Volcanology and Seismology recently said that they expected a hazardous eruption in Taal Volcano.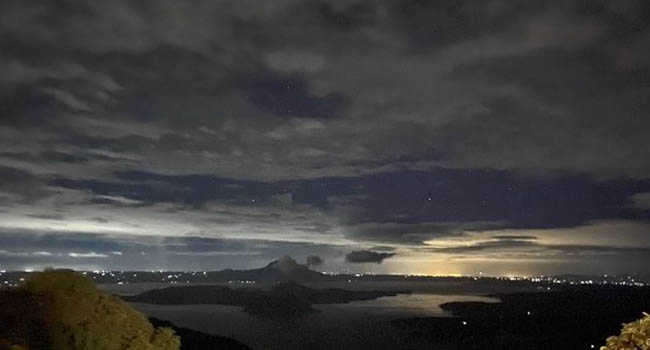 The institute said that they have observed a steady steam emission and infrequent weak explosions from the volcano within 24 hours.
According to GMA News, in their Friday morning bulletin, volcnic activity spawned dark gray ash plumes 100 to 800 meters tall that dispersed ash to areas southwest to west of the main crater.
Existing cracks on the ground that were found in the towns of Lemery, Agoncillo, Talisay, and San Nicolas in Batangas have widened by a few centimeters. A new fissure also appeared on the northern slopes of the volcano island. The shoreline around Taal lake is said to be receding.
The Philippine Seismic Network recorded at about 65 volcanic earthquakes from 5 AM Thursday to 5 AM Friday. Two of these had magnitudes of 1.3 to 3.1, both felt at Intensity I.
This adds up to a total of 634 volcanic earthquakes since tho volcano's inital activity last Sunday afternoon.
As per the report, the Taal Volcano Network, recorded at about 944 volcanic earthquakes, with 29 classified as low-frequency ones.
Low-frequency earthquakes, as defined by the United States Geological Survey, are caused by cracks resonating as magma and gases move toward the surface.
"They are often seen prior to volcanic eruptions, but their occurrence is also part of the normal background seismicity at some volcanoes and their occurrence does not necessarily indicate that an eruption is imminent,"
Until now, the volcano remained at Alert Level 4. This means that hazardous explosive eruption is possible within hours to days.
The institute repeated that total evacuation of the volcano island (specifically within 14-km radius), especially in areas along the Pansipit River Valley high-risk areas, is a must due to possible hazards such as base surge and volcanic tsunami.
Airspace around Taal Volcano remains unsafe due to risks posed by airborne ash and ballistic fragments from the eruption column.
What do you think? How will you react to this? Let us know more about it.
Check out our latest news on philnews.ph