How true is it that Miss Universe Thailand is a copycat of Miss Universe 2018 Catriona Gray?
Pageant fans are claiming that Miss Universe Thailand 2019 Paweensuda Drouin is a copycat of Miss Universe 2018 Catriona Gray.
Catriona did a remarkable job not only in representing the Philippines in the most prestigious beauty pageant but also doing amazing things during her reign. Everything that she did exude confidence and passion and that was instilled in the hearts of many pageant fans.
Miss Universe 2019 host Steve Harvey even said that the Filipina beauty queen set the bar higher for the next queens. It is also inevitable that aspiring titleholders would follow her footsteps. However, fans of Catriona noticed that allegedly, Miss Universe Thailand was copying her.
Thai beauty queen Paweensuda Drouin reached the Top 5. Unfortunately, she was not included in the Top 3 finalists. Fans of Catriona shared their observation in the performance of Drouin in the Miss Universe 2019.
Twitter user @VolleyPilipinas shared a video clip of Miss Thailand's walk for the evening gown. The caption stated: "Is it just me or kinokopya talaga ni Thailand si Catriona in every way possible??? The attitude, the angas, the walk, the turn, even the gown has a resemblance to the lava gown."
However, several netizens defended the Thai beauty queen. A fan of Drouin said that she has been doing this style since 2017.
Some Pinoy fans commented that it is just okay if the Thai beauty queen is really imitating the 4th Filipina Miss Universe. Another Pinoy pageant fan posted the photos of Catriona Gray and Paweensuda Drouin in order to point out the "similarity" that they noticed.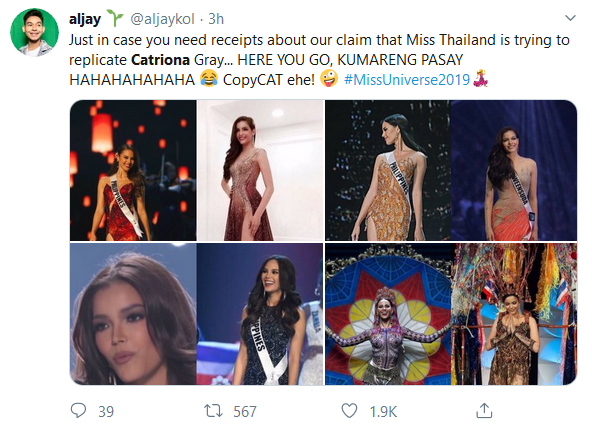 What can you say about this?
READ ALSO: Catriona Gray "Reflection" Gown In Miss U 2019, Symbolism Revealed