What Are The Examples Of Igneous Rocks? (Answer)
EXAMPLES OF IGNEOUS ROCKS – In this topic, we will now know the following examples of igneous rocks, one of the three types of rocks.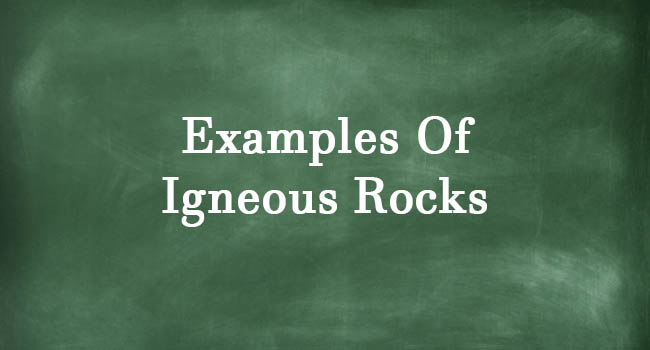 Meaning
Igneous rocks are the type of rocks that are formed when magma, which is a molten rock from inside the earth, cools and hardens, may it be inside the earth or at the earth's surface.
Igneous is derived from the Latin word ignis which means fire. It is also known as magmatic rock.
Examples
Basalt

It is a dark, fine-grained, magmatic rock that sometimes shows a columnar structure. It is usually composed mostly of plagioclase with pyroxene and olivine. Formed from the rapid cooling of magnesium-rich and iron-rich lava.

Obsidian

This is naturally volcanic glass that is produced when felsic lava cools rapidly with minimal crystal growth. It is silica-rich and low in water.

Diorite

It is a speckled, coarse-grained rock which consists of plagioclase, feldspar, and hornblende.

Gabbro

A coarse-grained. mafic, intrusive rock which is formed from the slow cooling of magma that is rich in magnesium and iron into a holocrystalline.

Rhyolite

A volcanic rock of felsic or silica-rich composition that have any texture from glassy to aphanitic to porphyritic.
READ ALSO: KINDS OF ROCKS – The Three Types, Definition And Examples
comment(s) for this post "What Are The Examples Of Igneous Rocks? (Answer)". Tell us what you think abut this post by leaving your comments below.