Airplane Passenger Wears Nearly Half Her Clothes to Avoid Extra Baggage Fee
PASSENGER – A resourceful passenger avoided an extra baggage fee by wearing nearly half of her clothes she had packed.
Most parents want their kids to be very resourceful because that behavior will surely help them when they grow up. We should all know how to adapt or overcome difficult situations and be able to think creatively.
Among the most resourceful people on the planet are the Filipinos. They are creative in many ways, weather its technology, music, art or science. They could even make something brilliant or useful things out of recycled materials.
Recently, there was woman in the Philippines who display her resourcefulness. She successfully avoided paying for excess baggage fee at the airport by wearing half of her clothes on.
The resourceful passenger from Davao City named Gel Rodriguez went to the airport with 9 kilograms of luggage. That is 2 kilograms more than the maximum weight allowance.
Rather than paying for an extra bag or paying an excess baggage fee, she decided to get some of her clothes from the luggage and wear them. Rodriguez wore numerous shirts, jackets and trousers.
The passenger uploaded a photo of herself on her Facebook account. It came with a hashtag #ExcessBaggageChallegeAccepted. Her post garnered 33K reactions, 1K comments and 20K shares as of this writing.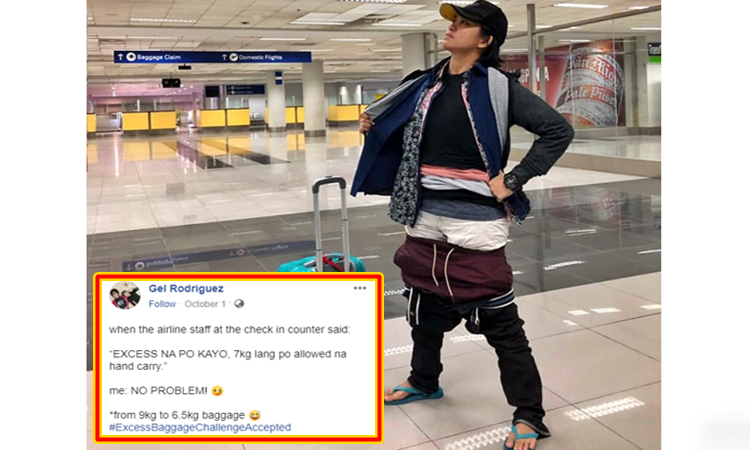 The viral photo garnered various reactions from the online community. Here are some of their comments on the post:
@Dee P Mitch: "Hey no rules for that for sure"
@Olinor Punay: "Sana ginanyan kobnalang din yungbsakin natapon ko tuloy yung iba kung gamit sa trashbin,,hahahah saying"
@Yang Yang: "hahahahha dapat ganito pala ginagawa natin eh"
@Glad Saymo: "Wonderful game plan"
What can you say about this article? Leave your comments and reactions below.