Answers To The Question: What Are The Important Lessons From The Play "All My Sons"
ALL MY SONS – is a play written by Arthur Miller inspired by the events of World War II and the true to life story of a woman who alerted authorities of her fathers wrong-doings.
The play tackles themes on how certain situations could affects the thought process of individuals. It also sheds light on the weight a person's has to bear because of one's decisions.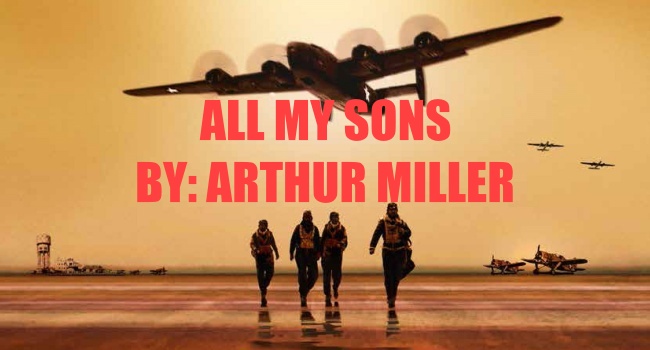 The story is about a successful businessman in the world war. He has failed to fulfill his social and moral obligations to society due to his lust for money.
Joe Keller was a profiteer during the war. Along with his business partner, Steve Deever, they set up a business which shipped cylinders for fighter plains.
However Joe had gotten information that the cylinders they sold were faulty. He then had a moral conundrum, recall the parts, or save his reputation and keep the money.
He opted for the latter. The cylinders sold then caused the death of 21 fighter pilots in the war.
Joe Keller's son also died in a plan crash during the war. However he insisted that his son, Larry did not die in a plane carrying the cylinders they were selling.
All My Sons also includes concepts regarding guilt and the ideas of honesty. Moreover social responsibility is also one of its key themes.
According to EnglishSummary, the story sheds light on the interdependence of individuals and societies. Human communities are built on ties stronger than than family and friendship through the context of a war.
The main subject in the story, Joe Keller, vindicates himself of profiting from war. His reason for this was because what he was doing supported his family.
A fun fact about this play is that the band "Twenty One Pilots" was actually named after this play. In interviews the band's front man Tyler Joseph said that he took inspiration from this story.
Thanks for reading. We aim to provide our readers with the freshest and most in-demand content. Come back next time for the latest news here on Philnews.
Like this article? READ ALSO: Lexicology – Why Is This Branch Of Study Important?(Answers)
comment(s) for this post "What Are The Important Lessons From The Play "All My Sons"? – Answers". Tell us what you think abut this post by leaving your comments below.