Here is the easy-to-follow Lomi Recipe
This Lomi Recipe is just as simple as 1,2,3 but it promises to create a delicious Filipino dish that is fit for the rainy season.
Lomi or Pancit Lomi is a dish popular among Filipinos which is made with a variety of thick fresh egg noodles of about a quarter of an inch in diameter, soaked in lye water to give it more texture.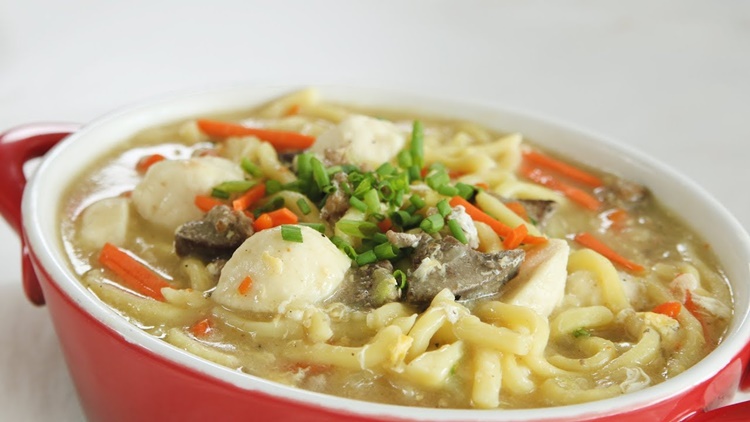 Here are the ingredients you need to prepare:
1 package (400 grams) lomi noodles
½ kilograms boneless, skinless chicken breast, cut into thin strips (shredded)
1/2 cup shrimp or more (cleaned, peeled and deveined)
1 cup chicken liver, cut into cubes
2 medium carrots, (peeled and julienned)
2 eggs, lightly beaten
1 small napa cabbage(shredded into 1-inch thick strips)
1 medium onion, peeled and chopped
2 cloves garlic, peeled and minced
1 tablespoon fish sauce
2 tablespoons oil
1 tablespoon cornstarch
8 cups chicken broth 
salt and pepper to taste
1-2 spring onions (chopped for garnish or topping)
Just follow these simple instructions:
Boil water in a large pot and add the lomi noodles. (Just enough water to cover the noodles in the pot). Quickly cook the noodles for about 1 minute since it is already soft in texture. Drain it using a strainer and wash in running water. Remove excess water and set it aside.
In a pan, heat an oil and sautè liver over medium heat until cooked through. Transfer in a plate and set it aside.
In the same pan, heat the oil to sautè garlic and onions until soft and fragrant. Add chicken strips and sautè until golden in color. Add shrimp and sautè quickly until it turns pinkish.
Season with patis and mix it well until incorporated. Adjust water/broth and let it simmer over low heat until chicken strips are cooked through. Add the noodles and continue to simmer for an additional 5 minutes more. Season with salt and pepper to taste.
Meanwhile, dissolve cornstarch in a boil with ¼ cup water and add the mixture to the simmering soup. Stir it until soup becomes thick in texture.
Add in cooked liver, carrots and let it cook for 1 minute more. Then add the napa cabbage and cover pot to semi cooked the cabbage for about a minute or less.
Gradually add the beaten egg in a very thin stream, let it cook for a few seconds before stirring the soup. This will create a beautiful egg ribbon in the soup. Turn off heat and garnish with chopped spring onions upon serving.
Based on the article from Mama's Guide Recipes, here are the optional ingredients you can add to this lomi recipe:
Fishball, squidball, fish cake or kikiam
1 package (1.4 ounces) crab and corn soup mix to make the soup more savory
2 teaspoon oyster sauce, hoisin sauce, or seasoning for best umami flavor.
READ ALSO: Filipino Style Beef Steak: Bistek Quick & Easy Recipe