Duterte does not want to have bulletproof glass protection on his podium
President Rodrigo Duterte ordered the Presidential Security Group (PSG) to remove the bulletproof glass protection placed in front of his podium.
The Chief Executive of the Philippines spoke during an event for the distribution of certificate of land ownership award to agrarian reform beneficiaries on June 13.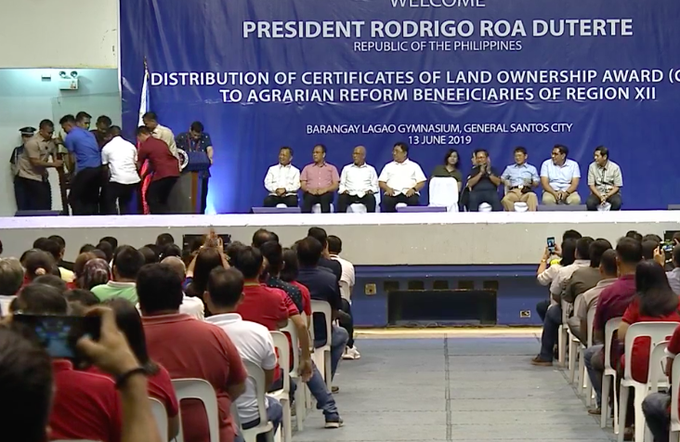 As the President was about to start his speech, he called out the attention of the PSG. He ordered them to remove the glass protection in front of him.
Based on a report from Rappler, Duterte said that he does not mind dying.
His security team immediately followed his order and this received applause from the crowd.
Duterte orders the bullet-proof glass taken away from him, saying he doesn't mind dying. PSG staff promptly remove it, to the crowd's delight. RTVM screenshot | via @piaranada pic.twitter.com/2dBDcRFhro

— Rappler (@rapplerdotcom) June 13, 2019
Meanwhile, according to the report from ABS-CBN, the President distributed 12,585 Certificate of Land Ownership Awards to 13,585 Agrarian Reform Beneficiaries. This represented the 24,000 hectares in North Cotabato, Sarangani, South Cotabato, and Sultan Kudarat.
On the other hand, he belittled the land reform promise of the New People's Army.
Duterte jokingly said to beneficiaries to sell their landa and invest the money in KAPA, based on the report.
According to Department of Agrarian Reform (DAR) Secretary John Castricciones, this event is the biggest CLOA distribution in the history of land reform.
What can you say about this?
READ ALSO: Retired Teachers Couple Found Dead Inside their Home in Camarines Sur