Catriona Gray in an interview with Miss Universe 2018 contestants
Filipina beauty queen Catriona Gray nailed the interview with other Miss Universe 2018 candidates.
The Bicolana beauty is one of the most popular contestant this year. Indeed, Catriona is making her way to the crown with her grace, beauty, and wit.
Pre-pageant events already started since candidates around the world gathered in Bangkok, Thailand.
A Thai Night was held last Wednesday wherein candidates showcased the lovely Asava Thai silk gowns.
After that, members of the press had the chance to ask some questions to Miss Universe 2018 candidates.
In the interview, Catriona was with Miss Saint Lucia Angella Dalsou, Miss Guatemala Mariana Garcia, Miss Singapore Zahra Khanum, and Miss Lebanon Maya Reaidy.
They were holding several microphones from different media entities in Thailand.
Each of them shared their reaction regarding their fabulous gowns made from Thai silk.
Catriona Gray said, " I am so honored to be wearing an Asava creation and, of course, Thai silk, which I know has so much culture, and tradition, and love from the Thai people. And to be coming from another country and wearing these beautiful creations and having them showcased to the universe is such an honor. It's wonderful to be here tonight."
On the other hand, netizens who commented on this video of the interview with Miss Universe 2018 contestants noticed a funny thing.
Here are some comments from netizens.
Wala bang lamesa dun para ipatong yun isangkaterbang mikroponong hawak hawak nila

Why are you torturing the girls by letting them hold the mics for for so long and even extending their arms just to give a better reports

C cat..not extending her arms when other girls turn to talk..ha ha. Very queenly
Some netizens even posted screenshot photos of the interview.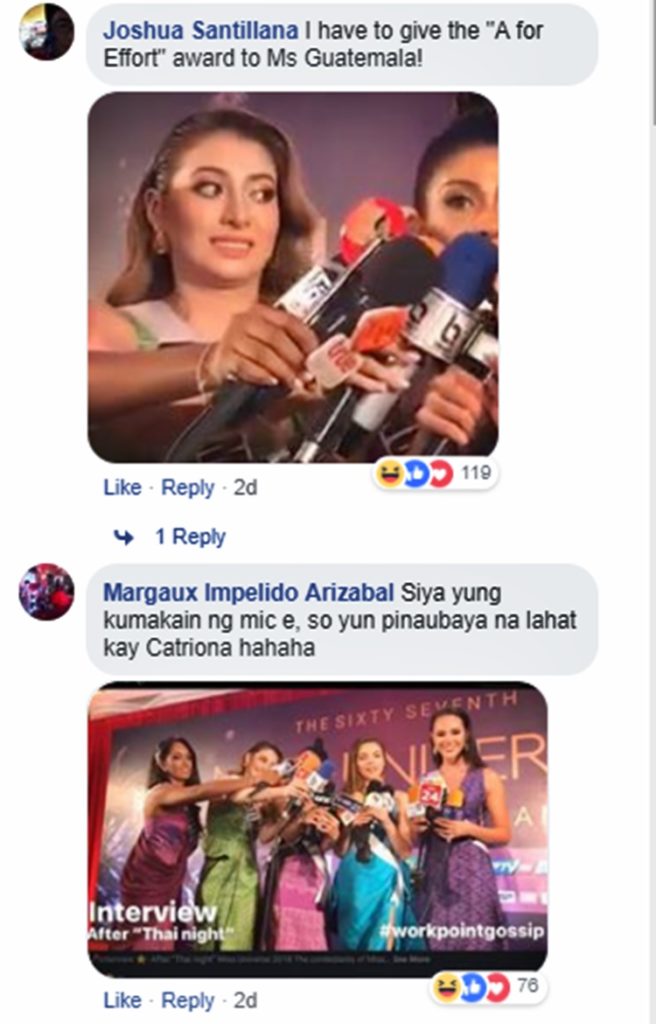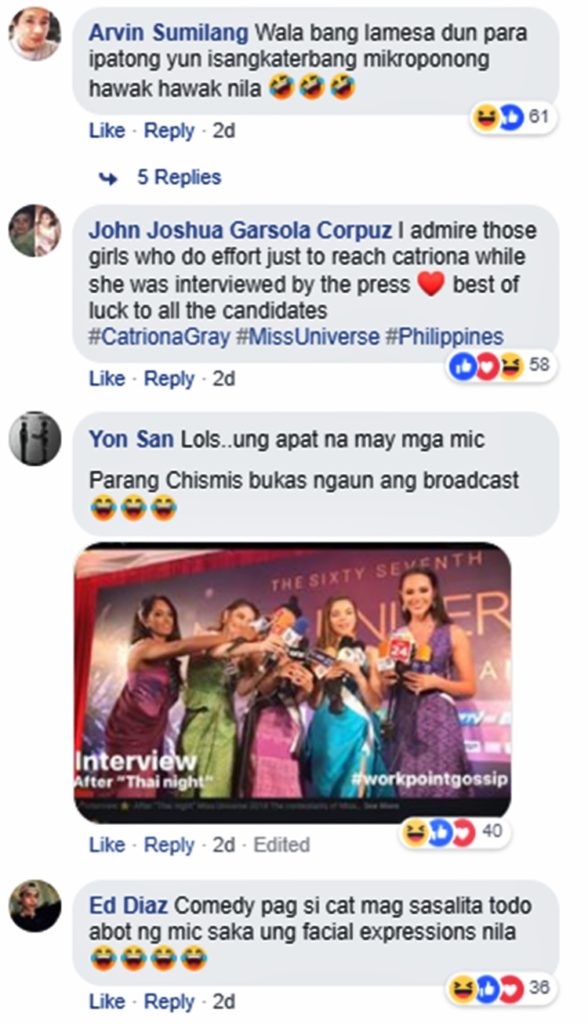 Watch the interview.
📍Interview ⭐️- After "Thai night" Miss Universe 2018 The contestants of Miss Universe 2018 wearing Thai Silk dress on "Thai night" at Dusit Thani Bangkok Hotel.📍สัมภาษณ์เหล่านางงาม 5 ชาติ หลังเดินโชว์ตัวในชุดไทยผ้าไหม ที่ รร.ดุสิตธานี#นิ้งโศภิดา #sophida #missuniversethailand 🇹🇭#workpointgossip#missuniverse2018#ห้องข่าวบันเทิงเกาะติดMissUniverse#ห้องข่าวบันเทิง #workpoint23

Posted by ห้องข่าวบันเทิง on Wednesday, December 5, 2018
comment(s) for this post "Catriona Gray Nailed The Interview With Miss Universe 2018 Candidates". Tell us what you think abut this post by leaving your comments below.