The results or the list of passers of the November 2017 Geologist Board Exam as well as the Top 10 Passers and Top Performing and Performance of Schools will be available on this website as soon as released by the Professional Regulation Commission (PRC), few working days after the last day of the examination.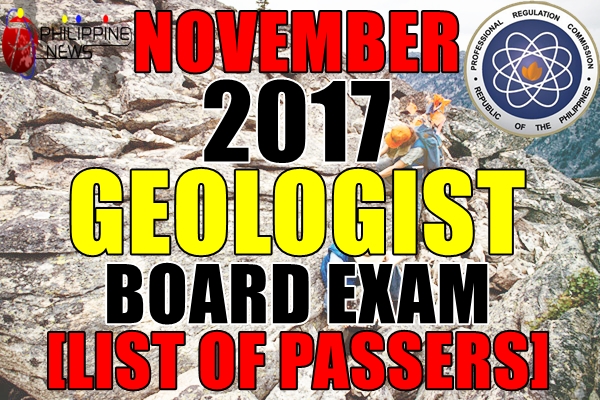 The November 2017 Geologist Licensure Examination will be administered by the Professional Regulatory Board of Geology on November 14-16, at designated testing centers nationwide.
SUMMARY: NOVEMBER 2017 GEOLOGIST BOARD EXAM RESULTS
Roll of Successful Examinees in the
GEOLOGIST LICENSURE EXAMINATION
Held on NOVEMBER 14, 2017 & FF. DAYS
Seq. No. N a m e
1 AARON, ANAWIM MARIE IMPORTANTE
2 ABAJON, JUAN GABRIEL DEMAYOGA
3 ABELINDE, DOREEN ABIOG
4 ABILA, ANA LORENA CAÑEDA
5 ADANZA, JORGE GABRIEL ADRIAN MEJICA
6 ADRIAS, VAN CHRISTIAN CAÑAL
7 AGEAS, MARLOWIE SUSULAN
8 ALVEZA, DIRABEL FAITH SENDON
9 AMIYAN, CHRISTINE JOY KUE
10 ARADA, BEAM JOSEPH
11 ARANZAMENDEZ, AILEEN SARSOSO
12 ARBIZO, JHAN-PAULE LUTANA
13 ATIVO, SAMANTHA CLAIRE JIMENEZ
14 AÑOVER, NOEL JACOB ALFONSO
15 BACAYO, PAVEL JERVIS DELA CRUZ
16 BALIGNOT, MERILL JAN TORMON
17 BALLON, ALGER DANIELLE ARCHINUE
18 BALMES, JEZZICA EBALDE
19 BARCENA, BLINCENT ADDAM DUMARAOS
20 BELLEN, MA KHRYSTER LEE BARIA
21 BONDOC, PEALE AXEL PURA
22 BORDEOS, CHRISTIAN ARVI VILLANUEVA
23 BORROMEO, KRIZZIA FAE BALITA
24 BROTAMONTE, IRAN VIÑAS
25 BUDUHAN, LAWRENCE OLIVER DEL CARMEN
26 CABAIS, MIGUEL LUIS CASTILLO
27 CABALUNA, SELWYN JR BRAVO
28 CAIDO, JEREMIAH GANAGAN
29 CARIÑO, MARIA CAEZARE MAE ROBRIGADO
30 CASEÑAS, MATTHEW RAY TAN
31 CATER, VON JUVI HIPOLITO
32 CAÑOSA, HEZEKIAH CUADRAZAL
33 CEA, CHRIS DE CASTRO
34 COSTA, MA AZILEIRA VALDEZ
35 CRUZ, JERICO FRANZ LLANES
36 CUCIO, CLARICE MACARAEG
37 DALES, JENTH PAMOLES
38 DAYOT, KC JANE MARABI
39 DE CASTRO, FRANCIS ANDREI PAJARILLAGA
40 DE GRANO, RONELL ANDREI LOVEJE
41 DE GUIA, LISA GRACE MAGDATO
42 DE GUZMAN, ORPAH LEAH BAUTISTA
43 DE LEON, FAYE ANNE GUIAO
44 DE LIMA, JEROME ESOY
45 DEGONES, MARINEL FLORENTINO
46 DELA CRUZ, EDZEL MALAJOS
47 DELA CRUZ, JANINE AQUINO
48 DELA RESMA, MARVEE BOGNOT
49 DELFINO, JEFFERSON ZABALLA
50 DEMEGILLO, JESSAMIN BELLE ABANDO
Roll of Successful Examinees in the
GEOLOGIST LICENSURE EXAMINATION
Held on NOVEMBER 14, 2017 & FF. DAYS Page: 3 of 5
Released on NOVEMBER 20, 2017
Seq. No. N a m e
51 DIARES, PAOLO SALVADOR KINTANAR
52 DIAZ, MARVIN VERANO
53 DIMAILIG, JOSEPH ANGELO PANGANIBAN
54 DONA-AL, JESTEE RUTH MAMMA
55 DONATO, JOENELLE CRUZ
56 EBREO, LYKA BLANCIA
57 ENTEÑA, MAY RAMOSO
58 ESCARIAN, CHRISTIAN PAUL FERMIN
59 ESTEBAN, ARIAN MORESCO
60 EZQUER, MA ALEXA TIZON
61 FERRER, KATHLEEN ANN BALBUENA
62 FIGUEROA, ACER JIAN TULAUAN
63 FILAMOR, JOHN RALLY JR MAMASPAS
64 FLORA, JOHN ROMEL RIVERA
65 FLORENDO, JOSE NORBIEL GARCIA
66 FLORES, NOREEN SHAINE SALUTAN
67 FUENTES, WENNAH SANCHEZ
68 GABUYA, JADE TOLETE
69 GALLEGO, MARY ANN FRANCISCO
70 GALOPE, GAIUS JABEZ AGUILAR
71 GARAS, ALDETH LARIOSA
72 GARCIA, MARILYN RAMIREZ
73 GARCIA, MARY LANCE BONIFACIO
74 GARCIA, REYANA DAWN URBIZTONDO
75 GASTON, ROCHELLER CLEDORO
76 GAUCE, TIFFANY JOY DINAUTO
77 GESULGA, MYRE ADRIENNE JADE FERNANDEZ
78 GUILLERMO, JUSTINE REMUS BIÑAS
79 GUINTO, YANCEY SEVE PILLE
80 GUTIERREZ, ALAINE CLAUDETTE SENSON
81 HALASAN, OLIVER PAUL CAFE
82 ILORETA, JOAHNNA MARIE PALANOG
83 INOCENTES, RALPH OLIVER VILLALUZ
84 ISRAEL, JANINE LUZADA
85 KUDERA, KAIZER LEONARD LAGAAC
86 LACUNA, BLESSEE JOY VALLEJOS
87 LAFUENTE, ARVIN FLORENZ ZAFRANCO
88 LAGROMA, WENDEL REI GONZAGA
89 LANANTE, ERIKO DADES
90 LANTACA, JR INTONG
91 LAPASTORA, RAYMOND JOHN ASIS
92 LAPUZ, VAN SHANNEL SANTOS
93 LAVIÑA, MICHAEL JOHN ESPINOSA
94 LAZATIN, RENZ UMALI
95 LENDIO, JIO MARNN MONTEFALCON
96 LIM, EDUARDO JR CRUZ
97 LINA, ANGELA ANN DIZON
98 LOPEZ, MARIGRACE GARLANDO
99 LUGTU, RHEYCALYN DEBIL
100 LUKMAN, AMINSHANI CAMPOMAYOR
Roll of Successful Examinees in the
GEOLOGIST LICENSURE EXAMINATION
Held on NOVEMBER 14, 2017 & FF. DAYS Page: 4 of 5
Released on NOVEMBER 20, 2017
Seq. No. N a m e
101 LUMONGSOD, REGINA MARTHA GABEST
102 LUNAS, HAZEL ABITRIA
103 MAGTALAS, YLOISA COLO
104 MALLO, MARGARET DESIERDO
105 MARASIGAN, ROSEL ALEIN BALAGAT
106 MATERA, MARK ANTHONY MATERA
107 MEJARES, REA MAYE LESLIE MENDOZA
108 MEJORADA, JUDY ANN CRUZ
109 MENDOZA, CHELSI GRACE SANTOS
110 MENDOZA, RAUL BENJAMIN CORPUZ
111 MILLESCA, DREDD CASPER BELLEZA
112 MOISES, RENDEL HUERVANA
113 MORANDARTE, LOUIE FONOLLERA
114 MOTOL, KRISTINE JOY LUMABAN
115 NABUA, ALTON DAIS
116 NAWANAO, LYNDON JR PALUMAR
117 NOLASCO, RHON HERRERA
118 OLARIO, KENT RAVEN QUILESTINO
119 OLIVA, ARLAND JACOB DELA CRUZ
120 ORCIO, NIKKI MAMUYAC
121 PABITO, EDWIN JR LACUNA
122 PADERNILLA, RAY SINTIN
123 PALAJOS, RHEABELLE ESTAL
124 PALMA, RICHARD VICTOR IGNACIO
125 PECILLER, BIENVENIDO II RELLEVE
126 PELINGON, KAYSHE JOY FUNDAL
127 PERALTA, MONICA JOYCE VELASQUEZ
128 PEREZ, HAGGEO MACABALO
129 PEREZ, KEVIN KENNETH ESCOTE
130 PERMEJO, JOMARIE PROFUGO
131 PLURAD, JANDEL NICO LUMDANG
132 POPES, MARMELOU GOMEZ
133 POSTRANO, RAYMUND MIRA
134 PRADO, JENNY ARENILLO
135 QUE, FAITH ESTORAS
136 QUIERREZ, RICO NEIL MILAN
137 RAMIREZ, ALEC BENJAMIN GARGANTA
138 RAMIREZ, ASTRID KATE CASTROVERDE
139 RASTRULLO, RASTY MORTA
140 REMOLADOR, JOHN KENT OCIO
141 REOLA, CZARINA GATCHALIAN
142 RICARSE, KYLE HENRY
143 RINGOR, VIRGILIO ELIJAH III SAMSON
144 RIOSA, REYJAN BORLAGDATAN
145 ROMARES, BRAN JOSEPH GLORIA
146 ROMBAOA, RED RIVER MARTIN VICALDO
147 RUBIA, FRANK PERRY TROYO
148 SABINO, ANNA NERISSA CABAZAL
149 SAHAGUN, JOHANN JOSEPH DEL ROSARIO
150 SALAMORIN, GALE RAFALES
Roll of Successful Examinees in the
GEOLOGIST LICENSURE EXAMINATION
Held on NOVEMBER 14, 2017 & FF. DAYS Page: 5 of 5
Released on NOVEMBER 20, 2017
Seq. No. N a m e
151 SAN ANTONIO, RAPHAEL DORUTHEO MARTIN ABRIGO
152 SANTOS, DAVID JOSHUA RIVERA
153 SARMIENTO, LORAINE FAYE OGALINOLA
154 SAYSON, DANIEL ISAIAH LACUESTA
155 SEDEÑO, JOEMAR ASIA
156 SIA, CELES EMILIO DE LOS REYES
157 SOGUILON, TRISTAN PAOLO MONARES
158 STA RITA, KHELLY SHAN CENIZERO
159 SUNGAHID, JAMIE JEANNE PEQUIERDA
160 TABASA, JAMES EARL ROTA
161 TABUZO, JOHN HAROLD BAJADOR
162 TADURAN, IAN DAVE CAEZAR TURALLO
163 TAN, CHECHEN MARCELO
164 TANCIONGCO, ALEXANDRIA MINA
165 TAPALES, KRISHA TIMOLA
166 TENA, CESCA MARIE BALMACEDA
167 TILAN, JOAHNNA MAE ANTINOR
168 TIU, LORENZ ALVER VILLAFLOR
169 TIZON, ALAN ROYCE BERNIL
170 TOGANO, JOMARIE BARCINILLA
171 TOGONON, JUSTIN RYAN
172 TORRE, JESU LUIGI CIASICO
173 TORRES, GIAN CARLO MORALES
174 TORTOGO, CHIRAN JR SOLAMILLO
175 UMBINA, JALAN JOY BELINGAN
176 UY, REGINA SALLEE ZUÑIGA
177 VALERIANO, JAZON CHARLES SABIDONG
178 VENUS, LILIE DIANE TECSON
179 VILLACORTA, PAULINE DENISE EBBAH
180 VILLARIN, YOKO NICOLE AYATON
181 VIRREY, MERVIN DAVE TULAUAN
182 YANG-ED, PAUL CHRISTIAN BALASTA
183 YEE, JOGIE VERA REYNES
NOTHING FOLLOWS———————-
REGISTRATION DATE
The schedule of online application for the issuance of Certificate of Registration and Professional ID will be announced by PRC.
REQUIREMENTS
Duly Accomplished Oath Form
Notice of Admission (NOA)
Two (2) pieces of colored passport ID picture with white background and nametag
Two (2) sets of doc stamps
RELEASE DATE
The results of November 2017 Geologist Board Exam is expected to be released within few working days after the last day of the examination. However, the list of passers may be released earlier or later without prior notice from PRC.
EXAM COVERAGE
General Geology (Covering the Earth as a Planet, Structural Geology and The Plate Tectonics Theory, Earth Materials, Earth Processes and Landforms, and Stratigraphy, Historical Geology:The Earth, Philippines and Southeast Asia)
Petrology and Mineralogy (Chemistry, Crystallography, Physical and Optical Properties of Minerals, Common Rock Forming Minerals, Igneous, Sedimentary and Metamorphic Rocks and Petrographic Techniques)
Applied Geology (Covering Geologic Resources Applied Geology, Analytical Methods and Tools and Geology as a Profession)
PREVIOUS EXAM
[November 2016 Geologist Board Exam]
A total of 189 examinees out of 395 takers passed the board exam. Emmanuel Avila Codillo from the University of the Philippines-Diliman topped the October 2016 Geologist Board Exam with 87.50%.  While the University of the Philippines-Diliman was the top performing school with 88.00% passing rate.