The results or the list of passers of the November 2017 Aeronautical Engineer Board Exam as well as the Top 10 Passers and Top Performing and Performance of Schools will be available on this website as soon as released by the Professional Regulation Commission (PRC), few working days after the last day of the examination.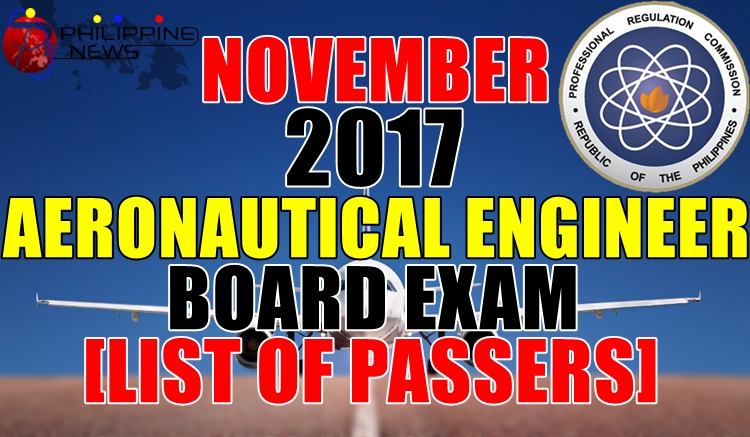 The November 2017 Aeronautical Engineer Licensure Examination will be administered by the Professional Regulatory Board of Aeronautical Engineering on November 14-16, at designated testing centers nationwide.
SUMMARY: NOVEMBER 2017 AERONAUTICAL ENGINEER BOARD EXAM RESULTS
Roll of Successful Examinees in the
AERONAUTICAL ENGINEER LICENSURE EXAMINATION
Held on NOVEMBER 14, 2017 & FF. DAYS Page: 2 of 6
Released on NOVEMBER 20, 2017
Seq. No. N a m e
1 AGLIT, JENZEN BAO-ET
2 AGUIL, ARMAN JOHN DELA CRUZ
3 AGUSTIN, CATHLEEN KYLA BALAJADIA
4 AGUSTIN, ZOREN SANTOS
5 ALDECOA, TIM JERICHO TAN
6 ALMIRA, CHRISTIAN JEROME BASARAN
7 ALVARADO, JOHN ROY DELA CRUZ
8 ANDRADE, JOHN DAVID LEAÑO
9 ANTAZO, EMMANUEL AVILADO
10 ANTONIO, JOHN LOUISE SUANSON
11 ARAGON, MICHAEL JOHN MAGNO
12 ASIS, DAN MARTIN OBAL
13 AUSTRIA, CLYDE MACALINDONG
14 BAJAR, FELIX III CANTUBA
15 BALAQUE, ANA VIKTORIA HORA
16 BALTAZAR, KATRINE PAMELA ZAIDE
17 BALTAZAR, KENNETH REGIN IBAÑEZ
18 BANTING, RHAMCEL CYJUR DE CASTRO
19 BARBOSA, JOEL YVES FIRMALINO
20 BASCO, JOHN FELIX DAGON
21 BATUIGAS, FRANCHETTE SEVILLENO
22 BAYANI, PERGENTINO JR VILLARUZ
23 BEARNEZA, LEMUEL ESCALADA
24 BENJAMIN, JOHN RYAN ANIÑON
25 BERNADA, ARVIN JOHN AQUILLO
26 BERNADAS, MARK RUSSEL SANTO
27 BEYER, TIFFANY LEIGH REBOLLEDO
28 BILLONES, JETHRO SAYOTO
29 BONDOC, JOHANN PAOLO AUKAY
30 BONDOC, MAT JONEL DAYRIT
31 BORBE, CHRISTIAN GUJIL
32 BRAVO, CHARLESTON TRISTAN RAMOS
33 BULANANDI, FRANK SENCO LASQUITE
34 BULILAN, JHUNE CARLO BOLAÑO
35 CABACOG, JOV STEVEN LACSADO
36 CABRERA, MARK JOSEPH MALASARTE
37 CABUHAT, JONA FRANZ ROSTATA
38 CAINGLET, CLYDE EDWARD JUMALON
39 CAJES, LANCE ADRIAN LLAGAS
40 CALBANG, DANIELLE ADRIAN TRINIDAD
41 CAMET, AERON JHON BACUNAWA
42 CAMPOS, CARLS JOHN STA MARIA
43 CANLAS, VICENTE
44 CASAS, CHARLINE GARCIA
45 CASIM, JOHN RYAN DE LA CRUZ
46 CASIÑO, RENCY DE GUZMAN
47 CASTILLO, REINER KEVIN BERMUDEZ
48 CELEBRIA, JACK RYAN MARQUEZ
49 CERIOLA, WILIHARDO II DAMGO
50 CHAN, MARK ANTHONY ANDRES
Roll of Successful Examinees in the
AERONAUTICAL ENGINEER LICENSURE EXAMINATION
Held on NOVEMBER 14, 2017 & FF. DAYS Page: 3 of 6
Released on NOVEMBER 20, 2017
Seq. No. N a m e
51 CHAVEZ, RYAN LAWRENCE CANJA
52 COCO, KENT BANGUIRAN
53 CORONADO, RENZ AARON BONES
54 CRUZ, CHRISTIAN ROY NIDEA
55 CRUZ, FRANC CARLO CENON
56 CRUZ, JAN PATRICK MAMARADLO
57 CRUZ, MARIA TERESA DANAN
58 CUNANAN, JERIEL BIÑAS
59 DACUYAN, SHARY MAE FAMILARA
60 DASALLA, JOHN NICOLE CAPANGPANGAN
61 DAVID, IDANIEL ILAI CONCEPCION
62 DAVID, RON LORENZ LOIS GUNDRAN
63 DAYAG, RAFFY JAY DELA CRUZ
64 DE GUZMAN, JOHNERIE DARREN DELOS REYES
65 DE GUZMAN, WESTLEY MANLICLIC
66 DE JESUS, RAMON III PAGLINAWAN
67 DE LA CRUZ, REYMART BURCE
68 DE LEON, CARL ANGELO HERERRA
69 DE LEON, PATRICIA MAE GARCIA
70 DE VERA, JOSHUA JAMES GRACE
71 DELA CRUZ, JOHN JOSEPH DEL MUNDO
72 DELA GUARDIA, ROLDAN HIDALGO
73 DELA ROSA, JIM RONNEL ABELLA
74 DELA ROSA, RENIER JOSEPH VILLAFLOR
75 DELFIN, RAMON PATRICK
76 DELMO, CELSO JR CAÑETE
77 DELMO, SHEROME HERNANDEZ
78 DETERA, SUNDY JOHN GALAO
79 DEVERA, PAUL CHRISTIAN TAPIC
80 DOGAONG, SHAN SINGWEY
81 DUAD, DAN KEITH MINA
82 DUMAM-AG, ROY BAGUIA
83 ENDAYA, ROCK JORDAN CRUZ
84 ERIA, FRANZ YVES REFERENTE
85 ERLANO, PAULJOSEPH DIESTA
86 ESCALANTE, ELVIN YMAS
87 ESPARTIRO, MARC ALFRED LAURENCE MONSANTO
88 ESPIRITU, JOSE FEDERICO SORIANO
89 ESPORA, RYAN PHELPS PARNECIO
90 ESTEFA, JOHN CLARENCE ESQUILLO
91 ESTORQUE, LAWRENCE KIM LLAIT
92 EVANGELISTA, MARY JOY DELA CIERRA
93 FAMERO, CARL LAWRENCE CADAGAT
94 FERNANDEZ, DEAN RABIN BUENAVISTA
95 FERNANDEZ, RONEIL ARIAS
96 FIGUERREZ, JONATHAN CRIS ASPECTO
97 FONTILLAS, LOUIE ROI ARCEO
98 FORMENTERA, JUDE MALOBAGO
99 FRANCISCO, GIOREL KRISTOFFER CASTRO
100 FUKUSHIMA, KIYOSHI ARGUILLES
Roll of Successful Examinees in the
AERONAUTICAL ENGINEER LICENSURE EXAMINATION
Held on NOVEMBER 14, 2017 & FF. DAYS Page: 4 of 6
Released on NOVEMBER 20, 2017
Seq. No. N a m e
101 GABUN, REGINA SANTOS
102 GALDO, LHEAN FULO
103 GASPAR, ANGELO MENDOZA
104 GIMENA, JAN CHRISTIAN RABARA
105 GUEVARRA, CHARRIE MAE VILLEGAS
106 GUZMAN, MORRIS ALTON PEREN
107 HERNANDEZ, MARK JEROME SALANDANAN
108 HERNANDEZ, TIMOTHY JOSHUA REMOLLO
109 HIPOLITO, FRANCO PANLILIO
110 IBARRA, EPHRAIM JR VIVA
111 IGNACIO, ROMARICAN JOYCE SALUNGA
112 IMPERIAL, KRISTOFER NEAL CASTRO
113 ISRAEL, MATHEW ARIEL VISTRO
114 JOVELLANOS, VICTORIA MERRIETTE GUTIERREZ
115 KAMLIAN, SAMEER RYAN IBRAHIM
116 KHAN, NIKKO DARVIN
117 LACSINA, JOHN ERIC CANLAS
118 LAGMAN, MICHELLE ANGELIQUE ALVAREZ
119 LANDICHO, ADRIAN PAOLO MALAPAD
120 LANUEVO, JENEVEVE LOZADA
121 LARIOSA, MARC KEVIN ALFAFARA
122 LASTIMADO, VAUGHN JASON CAÑIZAR
123 LAURELES, LOWEL MACASAQUIT
124 LAXAMANA, JAYYAH KATRINA LOBO
125 LIGUTAN, JOHN PAUL GACUSAN
126 LISCANO, MARC LAURENCE LENON
127 LIWAG, JOHN EDWARD RAMOS
128 LOZANO, JEROME PATRICK NACPIL
129 LUSH, WALTER DAVID IV DIMAILIG
130 MACABUAG, ALEXANDER GJAN DALUZ
131 MACARAEG, JOHN ARVIN CASAREO
132 MAGANGAN, DIVINE MAE LATOZA
133 MAGSALIN, KRISTIAN CONSTANTINO
134 MALINIS, CAROSEL ANGELO ANDAN
135 MANALANG, PAULO AARON CAPULI
136 MANALO, JOHN DANIEL TADURAN
137 MANALOTO, ADRIAN JOSEPH PANLILIO
138 MANGILIMAN, GERMIN JOHN ENRIQUEZ
139 MANGULABNAN, IAN CARLO GATDULA
140 MARASIGAN, ANGELO DIMAANDAL
141 MARASIGAN, RUFINO MIGUEL NITRO
142 MARIANO, MIGUEL PAOLO LIBANAN
143 MARMOL, MARY ROSE ANNE MATAAC
144 MARQUEZ, PATRICIA CORDERO
145 MARTIREZ, JOSEPH VERGEL DAHUYA
146 MASBATE, EVAN KRYZ CACHOLA
147 MAXINO, GEMER BELTRAN
148 MEDROZO, JENEE CATRICIA MANALO
149 MELLORIA, RYAN SIMEON
150 MENDOZA, MICHELLE BRUSAS
Roll of Successful Examinees in the
AERONAUTICAL ENGINEER LICENSURE EXAMINATION
Held on NOVEMBER 14, 2017 & FF. DAYS Page: 5 of 6
Released on NOVEMBER 20, 2017
Seq. No. N a m e
151 MENIANO, JOHN PAUL TENESO
152 MERCADO, IAN ROBERT SURLA
153 MERCADO, JAN PAOLO TERRENIO
154 MONGAYA, RAYNALDO PERLADA
155 MONTELOYOLA, MARCK WILSON BUCAG
156 MOSTACHO, ARVIE ALFINAGE
157 NADAR, MARC KENNETH BOCOL
158 NAJERA, NIFIL JONAS DOMA
159 NARVAEZ, JOHN GEOFFREY ABRENICA
160 NILO, BERNOULLI TENA
161 NOHAY, TANI JOSHUA ROTAS
162 NUMATA, JOCELYN GUTIERREZ
163 OFALSA, JOHN BERTRANDT PAMOR
164 OLFINDO, MARK JOEL LUCERO
165 OOI, KIER VINCENT DAVID
166 ORPILLA, TREVOR CARIÑO
167 ORQUIAL, CHRISTIAN ED BARBOSA
168 PABICO, MIGUEL NAVEA
169 PABUSTAN, SHERWIN IAN DEL FIN
170 PALISOC, ALDWIN STA JUANA
171 PALOMARES, JOSHUA PAUL PAGUNSAN
172 PAMA, ALIANA ALEXA SAGMIT
173 PAMITTAN, OLIVER MACADANGDANG
174 PANGAN, KING VINCENT BRAZA
175 PAREDES, JOSE KRISTIAN SAFLOR
176 PEREZ, BEN JOSEPH DELA CRUZ
177 PEREZ, LOUIE MANARANG
178 PICCIO, TIFFANY ERIKA MEDALLA
179 PINEDA, RANDIRICK TOLENTINO
180 PINTO, MILANELLE TABANGIN
181 PITOGO, EUGENE EDUARD BUCOL
182 PONDIVILLA, EZRA LHEEN BALOY
183 POTOT, JASPER FUEGO
184 POYUGAO, RODI CHE MARANAN
185 PRATS, ANNE LORRAINE PANCHO
186 PRIMERO, ALDRIN RYAN SOROSORO
187 QUILANG, THEA ANNTIONETTE CANO
188 QUINDOZA, RAFAEL MACASINAG
189 QUINTANA, JOHN RONALD TENORIO
190 QUITALIG, HANNAH CAIDIC
191 RABBON, EDISON JR RAGUINDIN
192 RACO, PSALM JULY CYD REYES
193 RAGOJO, BILL BRIAN ICAY
194 RAMOS, MARA ASHLEY SOYOSA
195 RAZAL, JORAINNE JOST CALAMIGAN
196 REYES, JOSE RENZO BOMBETA
197 RUFILA, CLARISSA MAE QUIAPO
198 SADANG, CHADIMYN TUBIG
199 SAJONA, SEBASTIAN BALITON
200 SALADA, RICHSTUM JESS TOBIAS
Roll of Successful Examinees in the
AERONAUTICAL ENGINEER LICENSURE EXAMINATION
Held on NOVEMBER 14, 2017 & FF. DAYS Page: 6 of 6
Released on NOVEMBER 20, 2017
Seq. No. N a m e
201 SAN AGUSTIN, JOSHUA MANUEL BAUTISTA
202 SAN JUAN, RICHARD DOMINIC SUAREZ
203 SANGLAY, LEANNE RO JUNASA
204 SANSOLIS, JOHN CHARLES PASTRANA
205 SANTANDER, ROSEMARIE DIVINE GRACE CONSULTA
206 SANTIAGO, IAN VAL VITAL
207 SANTOS, ANDRES JOSE JR SANTOS
208 SANTOS, RONWALD COLLINS SAN MIGUEL
209 SAPNIT, DANI LEI YASMIN AUSTRIA
210 SARROZA, MAIKAEL JAN GASANG
211 SAYO, CARLO JAMES SILVESTRE
212 SENADO, JOHN JOSEPH PAZ
213 SENORO, STEVEN SARCIA
214 SHIRION, JONATHAN BERMUDEZ
215 SINAL, AMERIL NARSICO
216 SISRACON, JULIUS DE JESUS
217 SOMERA, REIZEL LANCE GONZALES
218 TACTAY, JOHN JESSE MANINGAS
219 TANDOC, RUSTAN MAYNARD ELLORIN
220 TAYAG, ALDRIN JAN SAMSON
221 TAYNEC, ELIZABETH COMAAD
222 TENCE, NEVIN TATE HERRAS
223 TEVES, PAUL GABRIEL SALALILA
224 TIGLAO, NEBUCHADNEZZAR NICOLAS
225 TINGSON, FRANCIS ALBERT ALVARADO
226 TOLOSA, IAN PAULO CATACUTAN
227 TONZON, JOHNKIRBY BABIERA
228 TUBANG, PRIALIAN ANIÑON
229 UMALI, FRANCIS JOSEPH CHARLES VARGAS
230 VERGARA, JULYSSE MARK ABAIGAR
231 VILLANUEVA, ADOLFO SYONAN II RICO
232 VILLASAN, ACE ELRIDGE BALDAMOR
233 VIOLAGO, DANIEL ANGELO CALIBARA
234 WIDWIDAN, KERENLEE MELCHOR
235 ZAPATA, PAUL ANGELO ARCEO
NOTHING FOLLOWS———————-
REGISTRATION DATE
The schedule of online application for the issuance of Certificate of Registration and Professional ID will be announced by PRC.
REQUIREMENTS
Duly Accomplished Oath Form
Notice of Admission (NOA)
Two (2) pieces of colored passport ID picture with white background and nametag
Two (2) sets of doc stamps
RELEASE DATE
The results of November 2017 Aeronautical Engineer Board Exam is expected to be released within few working days after the last day of the examination. However, the list of passers may be released earlier or later without prior notice from PRC.
EXAM COVERAGE
Aerodynamics (25%)
Mathematics (10%)
Aircraft Structures & Design (20%)
Aircraft Construction, Repair, and Modification (15%)
Aircraft Powerplant (20%)
Engineering Economics and Management Law and Ethics (10%)
PREVIOUS EXAM
[November 2016 Aeronautical Engineer Board Exam]
A total of 170 examinees out of 314 takers passed the board exam.  Guiseppe Andrew Bancaso Buffe from the Philippine State College of Aeronautics-Pasay topped the October 2016 Aeronautical Engineer Board Exam with 91.60%.  While the Holy Angel University was the top performing school with 100% passing rate.
comment(s) for this post "FULL RESULTS: November 2017 Aeronautical Engineer Board Exam". Tell us what you think abut this post by leaving your comments below.