The recent survey results of Pulse Asia revealed that President Rodrigo Duterte continues to enjoy high trust and approval ratings, amid several issues.
It used face-to-face interviews with a ± 3 percent margin of error at the 95 percent confidence level.
This came despite the issues that faced the president and his administration towards the end of 2016.
According to the Pulse Asia, the survey was conducted on December 6 to 11.
Based on the survey results, in December, Duterte had 83 percent approval and trust ratings.
To recall, before these dates, some events had happened, like the resignation of Vice President Leni Robredo as chairperson of Housing and Urban Development Coordinating Council (HUDCC) after she was told not attend the Cabinet meeting.
During the said time, there were protests held against the decision of the administration due to the burial of the late dictator Ferdinand Marcos at the Libingan ng mga Bayani, days after the Supreme Court dismissed the petition opposing the hero's burial.
"Amidst various controversies involving him and his administration, most Filipinos remain appreciative of the work done by President Rodrigo R. Duterte (83 percent)," Pulse Asia said.
"Similarly, a huge majority of his constituents express trust in the President (83 percent)," it added.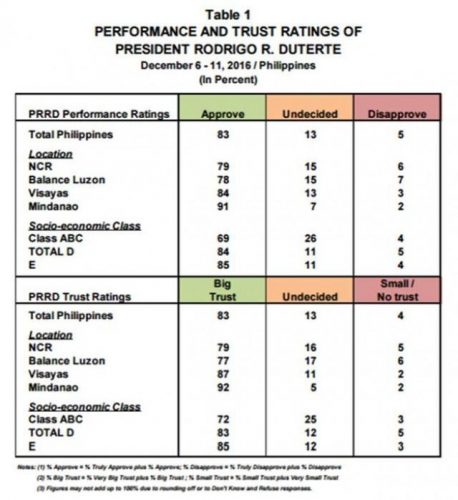 The respondents of the survey were 1,200 residents nationwide, aged 18 years old and above.
Those who distrust constituted only five percent and those who disapprove of Duterte were four percent.
Thirteen percent of the respondents were undecided or ambivalent about the President's performance and trustworthiness.
According to Pulse Asia, the figures based on its December poll were virtually the same as those recorded in its September survey.
To recall, Duterte enjoyed an 86-percent trust and approval ratings in September.
"Only marginal changes occur in the President's performance and trust ratings during the period September to December 2016 – both at the national level and across geographic areas and socio-economic cl(–foul word(s) removed–)," Pulse Asia said.
"Even the double-digit movements in President Duterte's approval and trust scores (both at -13 percentage points) and in the levels of indecision concerning his performance and trustworthiness (+14 and +17 percentage points, respectively) which are registered in the best-off Class ABC are not considered significant as they fall within the relevant error margin for the said socio-economic class," it added.
Across geographic areas and socio-economic cl(–foul word(s) removed–), Mindanaoans are most inclined to approve of the President was at 91 percent while those who trust was at 92 percent.
However, Duterte got the lowest approval and trust ratings for Class ABC at 69 percent and 72 percent.
The lowest levels of ambivalence are posted in Mindanao at 7 percent and 5 percent.
"In all geographic areas and socio-economic groupings, President Duterte records single-digit disapproval and distrust figures at 2 percent to 7 percent and 2 percent to 6 percent, respectively," Pulse Asia said.
comment(s) for this post "Duterte Gets 83% Trust, Approval Ratings Amid Issues in Months". Tell us what you think abut this post by leaving your comments below.