Ilocano teen receives an award in the United States from Michelle Obama.
A grade 10 student of Kodiak High School in Alaska, received an award from the First Lady Michelle Obama at the White House.
Filipinos have always been recognized all over the world for their exemplary skills and talent in various fields.
This time, in the Filmmaking industry, another Filipino brings pride to the country, as Rafael Bitanga receives an award from Michelle Obama.
Laoag City native Rafael Bitanga, 16, is studying in Alaska. He got a special mention from the first lady during the awarding in the United States.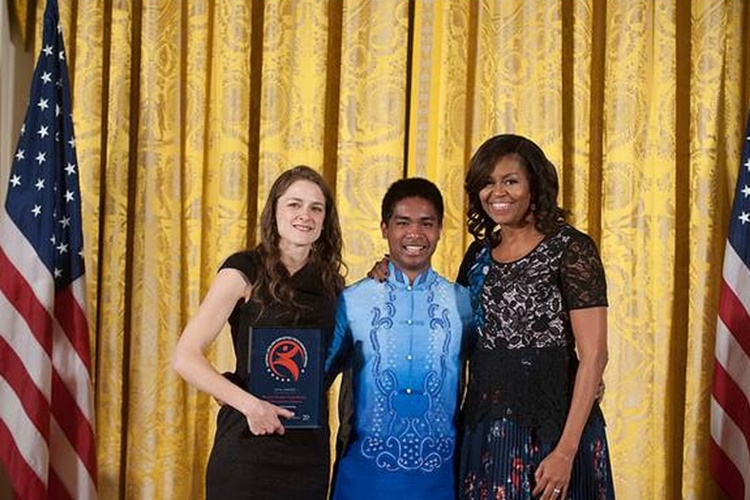 "We have a young man Rafael Bitanga who is here all the way from Kodiak, Alaska. A few years ago, Rafael and his family came to the United States from the Philippines and like so many young people who've immigrated to this country," Obama said.
"Rafael worked hard in school and quickly established himself as a leader and as a role model. And through the Baranov Museum and Film Intensive, he both became a filmmaker and a photographer and even established his photography business to help support his family," she added.
Bitanga received an award for his film about the Exxon Valdez Oil spill in 1989 from the National Arts and Humanities Youth Program.
Bitanga was very happy that he met the First Lady. He said that he was honored to be recognized during the awarding and got a special mention from Michelle Obama at the White House.
"It's just an honor to be up there. At noong nandoon na ako, sabi ni Michelle Obama, go to school, finish college, and she pointed out her finger right at me," he said.
In a recent news report of ABS-CBN news, Bitanga was accompanied by film instructor Maria Acemah, represented Baranov Museum's Summer Intensive Film Class.
Baranov Museum is a historical museum that offers film workshops for students.
Bitanga who both became a filmmaker and a photographer, has a message to students like him.
"Don't lose hope. Don't feel fear. Just know that if you keep on working hard, you'll get to places like the White House where I went to. You just really need to work hard, that's the only way," he said.
His story was now taking the social media by storm!