The ground commander who managed the violent dispersal of protesters at US Embassy was also involved in controversy before.
The violent dispersal of anti-American protesters in front of the US Embassy on Wednesday was led by Police Senior Supt. Marcelino Pedrozo as the ground the commander.
Based on records, this is not the first controversy involving Pedrozo.
At least 20 protesters and 30 police officers were injured during the violent dispersal of leftist protesters by personnel of the Manila Police District (MPD).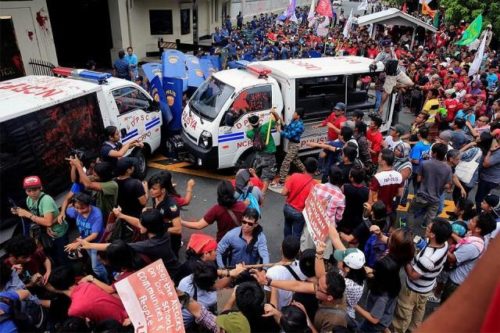 Chief Supt Oscar Albayalde, regional director of National Capital Region Police Office (NCRPO), confirmed earlier that nine police officers were relieved of their posts, including the ground commander.
They were transferred to the NCRPO Regional Headquarters Service with 40 other police officers who had been placed under restrictive custody at MPD.
Aside from Pedrozo and PO3 Franklin Kho, the driver of the police mobile, also ordered relieved in the violent dispersal on Wednesday were Supt. Albert Barot, Station Commander PS5/Ground Commander; Chief Inspectors Dionelle Brannon, Pedro Gil PCP Commander; Elmer P. Oseo Deputy, PS5;  Joebie  Astucia, Chief Operations, PS5; Roberto Marinda, Coy Commander CRB (Augmentation); Roberto Mangune, Coy Commander US Embassy Detail; and Senior Inspector Edgardo Orongan, Chief Operations District Public Safety Battalion.
Checking the records, it was found out that this is not the first controversy involving Pedrozo.
Reports show that Pedrozo and 10 of his men were implicated in kidnapping and extortion activities ten years ago.
According to a report by The Philippine Star in January 2006, Martin Soriano, a former agent of the National Bureau of Investigation (NBI), implicated Pedrozo and 10 of his men in Soriano's alleged kidnapping activities back in 2005.
Pedrozo denied the allegations, and he insisted that he was only linked to Soriano because the latter was an informant who furnished names of drug dealers.
The legal panel of PNP cleared the policemen of the kidnapping charges.
Another report on July 2004 revealed that Pedrozo, then head of the Western Police District, had been ordered relieved and investigated for alleged rampant extortion committed by his men.
comment(s) for this post "Violent Dispersal Not the 1st Controversy of Ground Commander". Tell us what you think abut this post by leaving your comments below.