Canadian Prime Minister Justin Trudeau congratulates Rodrigo Duterte.
Canadian Prime Minister Justin Trudeau talked to the presumptive president Rodrigo Duterte over the phone on Tuesday, May 24 to congratulate him. This was confirmed by the president-elect himself.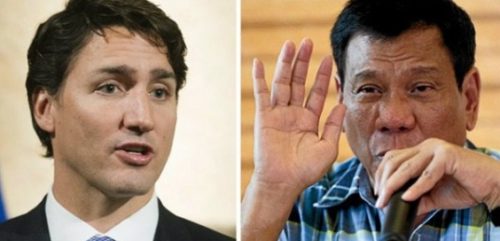 In a press conference held on Thursday, the outgoing Davao City Mayor told the reporters and Inquirer that they talked about "universal declaration of human rights," describing their conversation as "civil one."
According to Duterte, the call lasted for nine minutes. Among other things, they also agreed to secure the ties and cooperation for both countries.
Duterte said he commended Trudeau for the protection of Filipino workers in Canada through their labor laws. He added that they consider Filipinos as their citizens.
"I am aware there are Filipinos, a lot of them, working there. I am happy that they have found protection even in the labor laws," he said.
Duterte also apologized to Trudeau for the unfortunate incident that happened to Canadian national John Rishdel at the hands of Abu Sayyaf in April.
He vowed to do everything to make sure that the incident will not happen again.
"'Please accept my apologies for the incident that resulted in the k*lling of your national and we will try our very best to make sure nothing of the sort will happen again,'" he told Trudeau.
Turdeau made headlines in the Philippines during the Asia-Pacific Economic Cooperation (APEC) summit after the Filipino netizens dubbed him as "APEC hottie."