Duterte to sell presidential yacht
Presumptive president-elect Rodrigo Duterte announced on Sunday, May 15, 2016 that he will be selling BRP Ang Pangulo, the presidential yacht.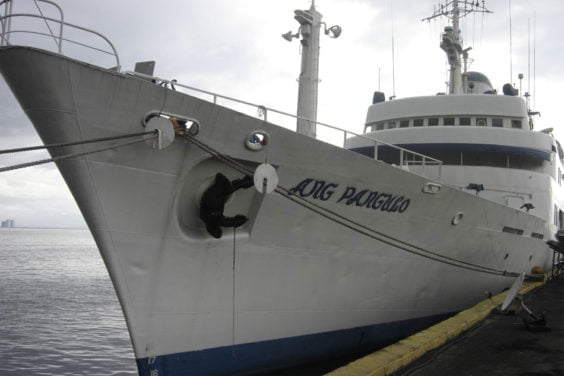 The soon-to-be-proclaimed 16th President of the Republic of the Philippines told ABS-CBN News and other members of the press that the sale of the presidential yacht will go to improvement of hospital facilities and salaries for medical practitioners in the country and also to the war veterans.
In a statement released by the Malacanang Palace on its website, President Cory Aquino put up the BRP Ang Pangulo "for sale for US$5.5 million, but it was not sold" right after she oust Ferdinand Marcos in 1986.
The Palace noted that Cory "tried to do away with all the lavishness and extravagance" of the Marcos regime for the presidential yacht was "costing the government P400,000 a month simply to maintain".
In 1998, when former President Erap Estrada assumed the presidency, the presidential yacht was "extensively furnished." The Palace said, "The ship served as a venue for presidential events and as a mobile office for the president," including his trips in Mindanao.
Former President Gloria Macapagal Arroyo renamed the presidential yacht into BRP pag-Asa after it was refurbished and repaired after it caught fire while undergoing repairs.
Here are the specifications of the Presidential Yacht:
Name:     Ang Pangulo
Type:     Motor Yacht
Model:     Custom
Builder:     IHI Group
Year:      1959
Flag:     Philippines
Dimensions
Length Overall:     77.33 m
Beam:     13 M
Draft (max):     6.40 m
Gross Tonnage:     2200 tons
Accommodations
Guests:     44
Crew:     81
Construction     
Hull Configuration:     Displacement
Hull Material:     Steel
Superstructure:     Steel
Engine
Quantity:     2
Manufacturer:     Mitsui B&W
Model:     DE642/VBF75
Power:     2,500 hp/1,840 kW
Total Power:     5,000 hp/3,680 kW
Propulsion:     Twin Screw
Performance and Capabilities
Max Speed:     18.0 kts
Cruising Speed:     15.0 kts
Range:     6,900 nm at 15 kts
Fuel Capacity:     372,000 L/81,828.53 USG