Government security forces allegedly open fired on farmers and Lumads protesting in Mindanao injuring scores of civilians as they dispersed the protesters who have been blockading the Cotabato-Davao highway in Kidapawan City late Friday morning. According to local reports, at least eight protesters and one confirmed dead during the shooting incident in Mindanao.
See Also: Actual Video Footage of the Harsh Dispersal of Farmers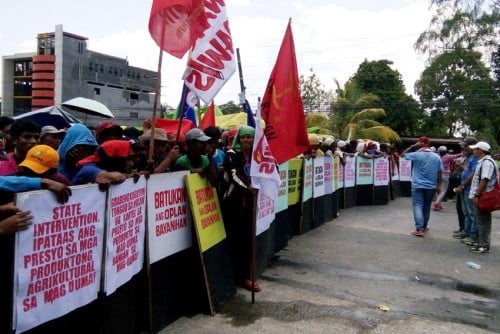 Sandawa Lumadnong Panaghiusa-Cotabato chairwoman Norman Capuyan confirmed to the media that the fatality during the incident was a man. Jerome Succor Aba, the spokespesman of Moro rights group Suara Bangsamoro revealed during an interview with Interaksyon that he too had suffered injuries to the legs from strikes made by a police baton and shield.
Based upon Aba's statement during an interview, the firing by security forces to the protesters began soon after Kidapawan Mayor Joseph Evangelista arrived at the protest site.
Independent media outfit Kilab Multimedia reported that most of the injuries suffered during the dispersal were from batons and rocks. The Bagong Alyansang Makabayan confirmed that one of its officers in Southern Mindanao, Sheena Duazo of Davao City, was among those injured when her head was struck by a rock.
The Makabayan officer confirmed his injury to the media and noted that she had been "rescued" by media and former Cotabato governor Emmanuel Pinol, who had visited the barricade earlier. Pinol is one of the most prominent political ally of Mayor Rodrigo Duterte and considered as the one of the most respected journalist and sportsman from Mindanao.
Based upon various reports from different news media organizations covering the event, some 5,000 farmers and lumad from several towns in Cotabato province had set up a human barricade across the Cotabato-Davao highway in Kidapawan on Wednesday, as they demanded immediate relief from the devastating drought that has gripped the province since November 2015.