The leader of the Spanish national basketball team, Paul Gasol of the Chicago Bulls propels his team, Spain in winning their third European championship title after they defeated Lithuania with the final score at 80-63 during the Euro Basket 2015 championships.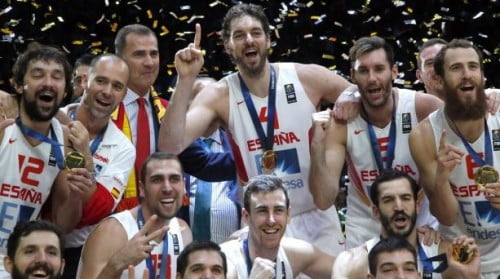 During the finals of the FIBA Europe basketball championship, Pau Gasol scored an impressive 25 points and racked up 12 rebounds as he leads the 2009 and 2011 winner, Spain.
The Spanish national basketball team is considered as one of the toughest team in Europe and a consistent powerhouse won runners up in 2007 and third in 2013.
The 35-year-old Pau Gasol was named as the competition's Most Valuable Player after carrying his injury-hit team throughout the gruelling 24-nation event.
Pau Gasol, a double former NBA champion with the Los Angeles Lakers is considered as one of Spain's basketball icon. He will lead the national basketball team of Spain as they will represent their country in the highly anticipated Rio Olympics.
Both Spain and runner-up Lithuania secured the two spots for Europe in the upcoming Olympics, while the bronze medalist of the Euro Basket 2015, France and runner-up Serbia who were defeated by France will try their luck in international qualifying rounds.
According to FIBA, the gold medalists and the silver medalist of the Euro Basket will secure tickets for the Rio Olympics while the remaining runners-up namely, France, Serbia, Italy, Greece and the Czech Republic will enter three intercontinental qualifying tournaments for an extra three spots.
The United States beat Spain in the 2008 and 2012 Olympic finals but the European giants will hope to be at full strength for the 2016 Games in Rio de Janeiro and have another tilt at the only major trophy missing in their cabinet.