The people of the Municipality of Bantayan in Northern Cebu rallied against the newly-released guidelines by the Department of Social Welfare and Development (DSWD) with regards to the distribution of Emergency Shelter Allowance (ESA) intended to the victims of the super typhoon Yolanda that devastated the municipality during last November 2013.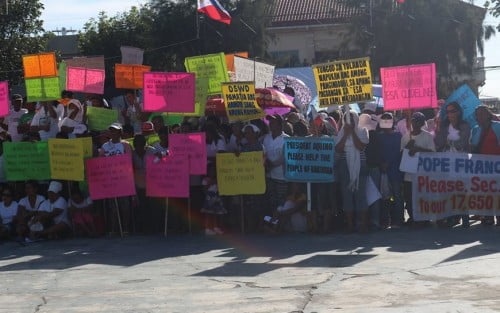 During the EDSA Anniversary celebration in Bantayan Island, hundreds of Bantayanons (locale of Bantayan) braved the heat of the sun as they converged at the municipal plaza together with Bantayan's town officials as they asked the DSWD Secretary Dinky Soliman to release the P375 million ESA without conditions.
Mayor Chris Ian Christopher Escario explained to his constituents from 25 different Barangay of Bantayan that the checked is already with the DSWD office, but he refused to claim it unless the new guidelines for ESA distribution will be scraped by the DSWD.
The people of Bantayan are protesting a provision disqualifying households with combined income of P15,000 and above and households living within the 40-meter danger zones which means that more than 60% of the Yolanda beneficiaries are not qualified to receive the ESA because most barangay of Bantayan are considered as danger zones because it is an island.
If the guidelines by DSWD will be implemented in ESA distribution only 7,060 out of 17,650 typhoon-affected households will be given the ESA. According to DSWD those whose house were totally damaged will received P30,000 while those who were partially destroyed will be given P10,000.