The Department of Public Works and Highways confirmed that the country's highest bridge, the Agas-Agas Bridge in Southern, Leyte is now in danger of collapsing due to heavy rains in the Eastern Visayas during the past 12 months which resulted in landslides, eroding the protective covers of the two piers or columns of the 350-meter-long super structure in the Philippines.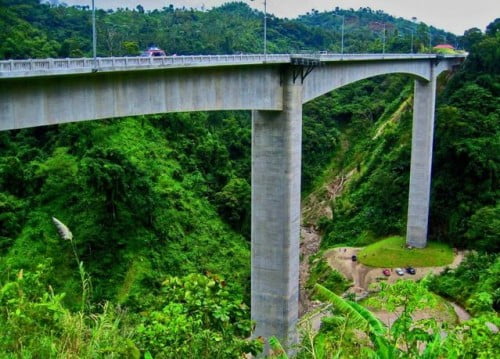 The Agas-Agas Bridge stands at 84 meters and was built from November 27, 2006 to August 2, 2009, during the term of Pres. Gloria Macapagal-Arroyo with an estimated budget of P1.24-billion funding from the Japan International Cooperation Agency (JICA).
In an official statement to DPWH head office in Manila, the agency noted that "the scouring that occurred were about 10 meters and the previous preventive measures applied on the structure such as gabion flood controls and drainage canals, have also been washed out.
If the damage of the Agas-Agas Bridge is neglected, these adverse conditions could seriously ruin the foundation of the superstructures that connects that Pan-Philippine Highway, a major road system for motorists traveling from Luzon to Mindanao.
According to the DPWH, to protect the bridge from imminent damage, the department has set aside P46.63 million for the plan and program of work designed to protect the stability of the structure. Last year the DPWH also spent about P9 million for protection and maintenance works on the structure.