Joakin Noah of the Chicago Bulls was named as NBA's Defensive Player of the Year on Monday after he averaged 12.6 points, 11.3 rebounds, 1.5 blocked shots and 1.2 steals per game for the Bulls this season.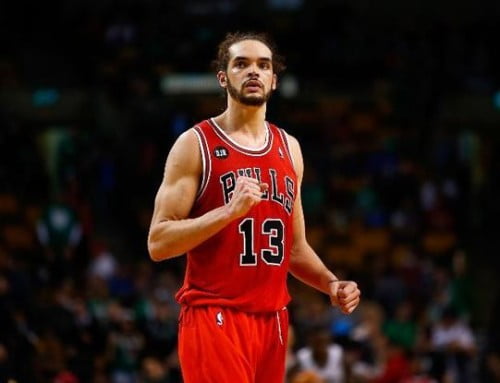 Joakim Noah (Photo Credit: AFP)
The 29-year-old Joakim Noah who is the son of French tennis legend Yannick Noah and former Miss Sweden Cecilia Rodhe became the first Chicago Bulls player to win the award since Michael Jordan in 1998.
The Chicago Bulls are currently in the first round of the first round of the NBA playoffs although they lost their opener to the Washington Wizards. Joakim Noah owes the NBA honor to the work of his teammates as well as himself.
During the time when the Bulls lost star playmaker Derrick Rose to an injury and the Bulls traded British star Luol Deng, the Bulls stressed defensive work and Joakim Noah who set the tone for the team.
According to Joakim Noah, he also owes much of his work ethic to his athletic father watching his determination on the tennis court.
Joakim Noah received a total of 555 out of the possible 1,125 points, including the 100 first-place votes from a media panel, to defeat runner-up Roy Hibbert of the Indiana Pacers, who had 166 points and eight first-place votes.
De Andre Jordan of the Los Angeles Clippers was third in this year's NBA Defensive Player of the Year Award with 121 points and eight first-place votes.