The Philippine National Basketball Team Gilas Pilipinas will start its preparation for the upcoming FIBA World Cup which will be held in Spain this year. National Coach Chot Reyes already named his 16-man pool for the FIBA World Cup and the 2014 Asian Games.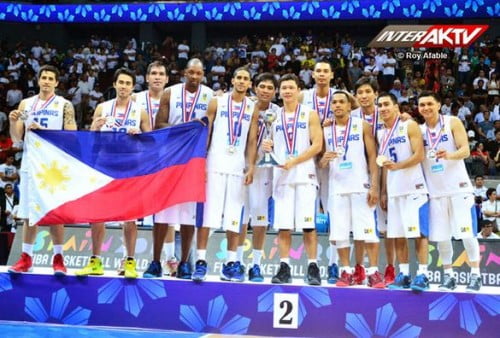 Gilas Chot Reyes added veteran PBA players such as Paul Lee, Marcio L(–foul word(s) removed–)iter, Jared Dillinger and rookie Greg Slaughter were included in the latest lineup of the Gilas Pilipinas national team.
The additional four players will join the pool with FIBA Asia squad led by Jimmy Alapag, LA Tenorio, Larry Fonacier, Jeff Chan, Jayson Castro, Gary David, Gabe Norwood, Ranidel De Ocampo, Japeth Aguilar, Junemar Fajardo and naturalized player Marcus Douthit with Gilas reserve Beau Belga.
Coach Chot Reyes is still waiting for the development of the newest addition to the team, the naturalized player Andre Blatche of the Brooklyn Nets who is still waiting for Congressional approval.
Gilas Pilipinas head coach Chot Reyes acknowledge the PBA Team Owners and the PBA Board of Governors for allowing him to name the players in the FIBA World Cup Pool. He also thanked the PBA for the continued partnership to the national team effort.
The Gilas Pilipinas will try to prepare hard for the FIBA World Cup as the National Team is bracketed with powerhouse teams such as Argentina, Greece, Puerto Rico and Senegal, each team featured former or current NBA players on their line-up.
The national basketball team will start their practice on Monday at 8:00 PM at the PhilSports Arena but some of the players might skip the first practice days particularly players from San Mig Coffee Mixers and Rain or Shine who were given a week-long break by their respective teams.