Portland ace Damian Lillard will make history at New Orleans as the emerging NBA superstar is set to become the first player to participate in all the three events at the  All-star Saturday night.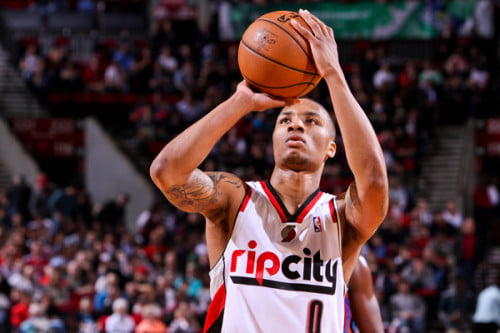 photo credit: balloverall.com
Aside from being a part of the Rising stars challenge and the NBA All-star game, Lillard will also take part in the Slam Dunk contest, three-point shootout and skills challenge.
The reigning rookie of the year will defend his title in the skills event together with his partner Trey Burke against other teams like the rookie tandem of Michael Carter-Williams and Victor Oladipo, the pair of All-Star DeMarDeRozan and Giannis Antetokounmpo, and the guard duo of Goran Dragic and Reggie Jackson.
Lillard was also enlisted with other league's top gunners in Steph Curry, Kevin Love, Bradley Beal, Aaron Afflalo, Marco Belinelli, Joe Johnson and reigning champion Kyrie Irving to battle in the three-point contest.
Concluding his involvement with the Saturday night's offering, the 6'3 guard will then contend against his fellow all-star John Wall and Paul George in an exciting Slam dunk affair this year. This is the first time that there will be three all-stars clashing in the competition since Michael Jordan, Dominic Wilkins and Clyde Drexler joined in the 1988 edition.
Other explosive dunkers completing the group are defending champion Terrence Ross, Golden state's Harrison Barnes and rookie Ben McLemore of Sacramento.
Meanwhile, the teams playing in the shooting stars are: the Team Durant: Kevin Durant, Karl Malone and Skylar Diggins; Team Bosh: Chris Bosh, Wilkins and Swin Cash; Team Curry: Stephen Curry, Dell Curry and Becky Hammon; and Team Hardaway: Tim Hardaway Jr., Tim Hardaway Sr. and Elena Delle Donne.