Cagayan rising Sun utility man Bernard Santos, accompanied by Cagayan Team manager Frederick Collado, met PBA Commissioner Chito Salud after being called by the league's head regarding his discriminatory action on NLEX Road Warriors center Ola Adeogun while in a PBA D-League game.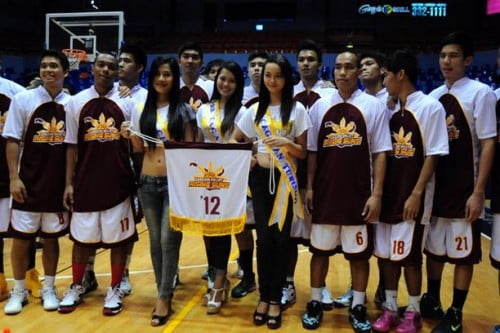 Photo Credit: Interaksyon.com
The incident happen when Santos was cheering for his team but raising with his hand a banana and calling the name of Adeogun, which caught the attention of the audience, the side of the Road Warriors, and the media,  saying that Santos practiced the act of 'racism' towards Adeogun.
In a statement published on Spin.ph, Salud said that "racism has no place in the league and shall be dealt accordingly."
"I had a lot of questions to him. But my point here is that racism has no place in the league and shall be dealt with accordingly," said Salud after emerging from the meeting with Santos and Collado.
PBA Commissioner has no decision yet, not even judging whether Santos did discriminate Adeogun's race or not. He has yet to meet the NLEX frontliner and get his side before making any announcements.
"Hindi ko naman sinasabi na racist remark agad yung ginawa niya, but I already told him to be careful next time with his actions, especially if he is not aware of the gravity," added PBA Chief.
After the meeting, Collado told the Spin.ph that they were responsible for hyping up the issue, which he said was not really discriminatory in nature, instead he defended Santos action describing it as part of the game.
"Pinakita dun (sa story) na mali ka … pinalaki mo lang kasi yung story," said Collado. "Hindi naman racism yun, ginawa mo lang racism. Monkey lang ba ang kumakain ng saging? … Pati nga mga manok (fighting cock) namin kumakain ng saging."