The Binibining Pilipinas Charities, Inc., announced earlier that the last day of application for Binibining Pilipinas candidates is until today, January 15, 2014. BPCI started accepting applications on December 16, 2013.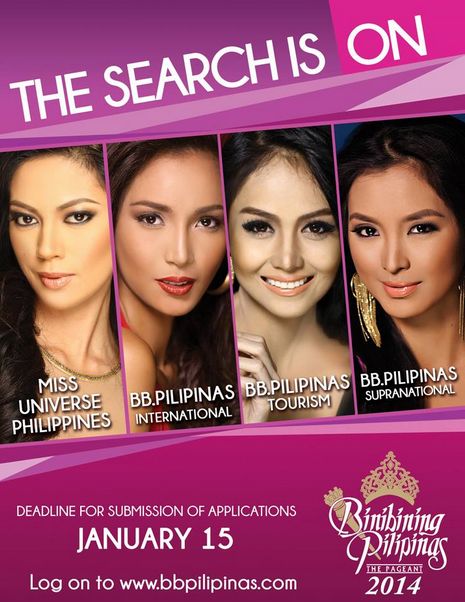 The office of the BPCI is currently located at the Uniprom, near Red Gate of the Araneta Coliseum. Application were given to Bb. Pilipinas interested candidates who were Filipino citizens, single ladies ages 17 to 25 years old.
Bb. Pilipinas candidates is at least 6 feet 6 inches tall, at least High School graduate, and of good moral character. Applicants are encouraged to apply in person at the BPCI Office.
The deadline of the submission of candidates for the Bb. Pilipinas 2014 beauty pageant officially ended on January 15, 2014. During the last day of submission of applications Diana Arevalo and Mary Ann Ross Misa of Aces and Queens and Krystal Alonday of Team JDV beats the registration deadline.
Here's the Unofficial List of Candidates:
Julian Aurine (JA) Castro Flores = Kagandahang Flores
Hannah Sison = Kagandahang Flores
Diana Arevalo = Aces & Queens
Mary Ann Ross Misa = Aces & Queens
Krischell "KC" Halili = Aces & Queens
Monique Trinidad = Aces and Queens
Pia Wurtzbach = Aces & Queens
Katrina Salao = Aces & Queens
Yvette Marie Santiago = Aces & Queens
Hannah Marie Caayon = Aces & Queens
Mary Ainjely Manalo = Aces & Queens
Mary Anne Bianca Guidotti = Aces & Queens
Kimverlyn Suiza = Aces & Queens
Hannah Mariz dela Guera = Aces & Queens
Jeane Louise Flores = Aces & Queens
Laura Lehman = Aces & Queens
Gab Tilokani = Aces & Queens
Carla Lizardo = Aces & Queens
Mona Hamad = Aces & Queens
Zahara Soriano = Aces & Queens
Meryl Angeline King = Aces & Queens
Diana Arevalo = Aces & Queens
Krystal Alonday = Team JDV
Nichole Manalo